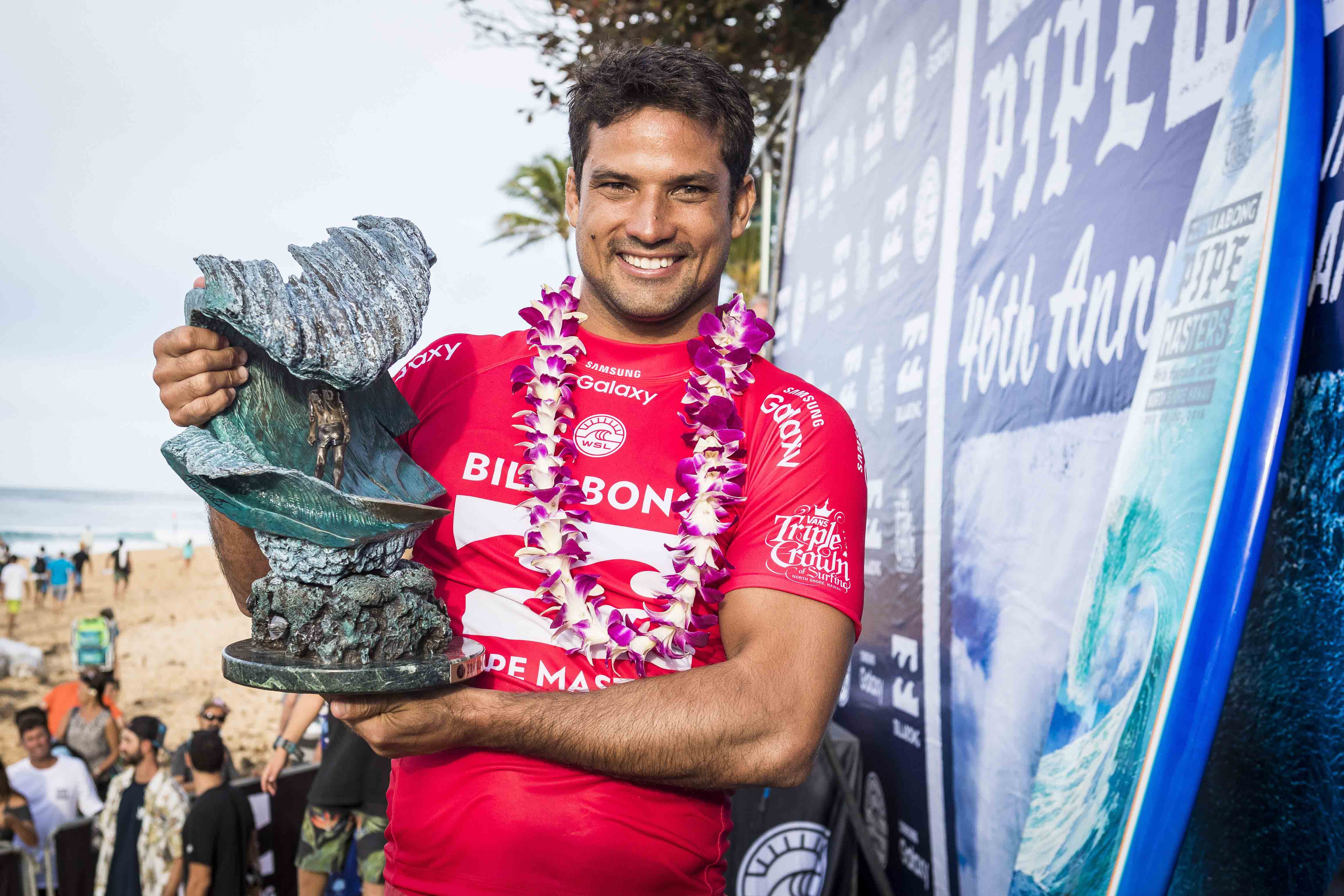 The smiling Spartan who could not be stopped.
Number one: The Pipeline Masters always delivers.
Even when the waves aren't maxing or world titles aren't being decided, Pipeline finds a way to tap into drama and entertain.
This year the theatre surrounding Pipe was all about qualification for next year. There was a point when Rosy Hodge interviewed Nat Young while Kanoa Igarashi and Jordy Smith were locked in a pretty epic quarter final clash. Rosy asked Nat what he thought about the heat. Confused to the line of questioning Nat just stared blankly back at Rosy. Then as Rosy told Nat, it's basically Jordy has to win to keep him on tour, Nat went on an emotional tangent about his tough year all the while fighting back tears.
You see, just half an hour earlier Nat Young was in control of his heat with Jordy Smith.
As the clock hit the final minute and with a set wave standing up, Nat with priority inexplicably let the wave go. The big Saffa could not believe what he was seeing and paddled into the biggest and best lined up wave of the heat. Without Priority. The rest is history as Jordy demolished the wave and Nat's dreams all in the space of 11-seconds.
For Nat, it was a total brain fart at the most unimaginable time. If he'd just paddled for the wave and straight-handed it to the beach on his belly he's on the tour next year.
… and there in that instant talking with Rosy, Nat was suddenly rooting for the guy who just beat him. And that sums up the brutality of WSL surfing in Hawaii more than big waves bombing onto shallow reef.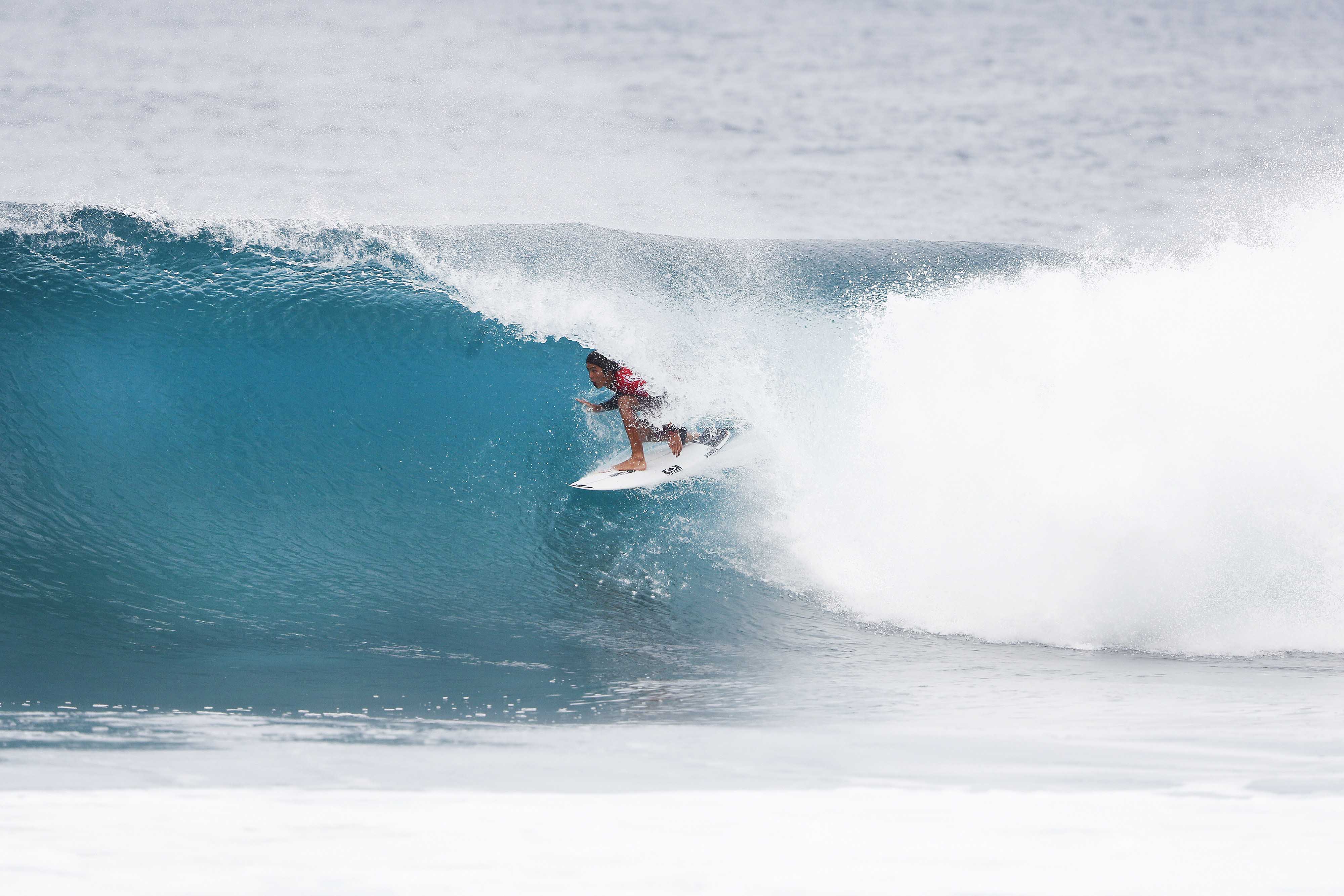 Kanoa spent his entire day under the lip and eliminating people.
Number two: Odds don't mean a thing here.
Heading into the final day's action, a Bourez and Igarashi final were the longest odds available as they both went into full Kill Bill mode with anyone who drew them in a heat. Just when you thought Bourez beating John John is the biggest boilover you'll see for the day, Kanoa went out and surgically removed Slater from the tournament.
And that there is the beauty of surfing in the Pipemasters, an event with a long history of unlikely winners and losers. One of the true locations of world surfing where an underdog, always has a puncher's chance in any round, of any heat on any day. Like, how is it even possible for John John to not have won a Pipe Masters yet? In his own words, this is his favourite wave in his own (literally, his own) backyard.
And there we all were, with the stage set for an epic battle of underdog versus underdog.
When fizz happened.
The final was the fizzer to end all fizzers as waves from one of the earth's most exposed coasts dried up and completely stopped. There was only five minutes remaining before Kanoa had even caught his first wave. A little runner which earned him four-points and looked more like Rio than Oahu.
See you all next year.
Billabong Pipe Masters Final Results:
1: Michel Bourez (PYF) 7.532: Kanoa Igarashi (USA) 6.17
Billabong Pipe Masters Semifinal Results:
SF 1: Michel Bourez (PYF) 15.37 def. Kolohe Andino (USA) 13.93
SF 2: Kanoa Igarashi (USA) 15.50 def. Kelly Slater (USA) 15.00
Billabong Pipe Masters Quarterfinal Results:
QF 1: Kolohe Andino (USA) 14.87 def. Jeremy Flores (FRA) 12.67
QF 2: Michel Bourez (PYF) 17.20 def. John John Florence (HAW) 14.00
QF 3: Kelly Slater (USA) 11.50 def. Josh Kerr (AUS) 10.24
QF 4: Kanoa Igarashi (USA) 18.03 def. Jordy Smith (ZAF) 15.74
Billabong Pipe Masters Round 5 Results:
Heat 1: Jeremy Flores (FRA) 15.17 def. Joel Parkinson (AUS) 4.53
Heat 2: Michel Bourez (PYF) 16.80 def. Filipe Toledo (BRA) 15.50
Heat 3: Kelly Slater (USA) 14.34 def. Ryan Callinan (AUS) 10.17
Heat 4: Jordy Smith (ZAF) 18.10 def. Nat Young (USA) 16.17
Billabong Pipe Masters Round 4 Results:
Heat 1: Kolohe Andino (USA) 13.66, Jeremy Flores (FRA) 10.16, Filipe Toledo (BRA) 5.00
Heat 2: John John Florence (HAW) 11.00, Michel Bourez (PYF) 9.17, Joel Parkinson (AUS) 8.83
Heat 3: Josh Kerr (AUS) 9.24, Ryan Callinan (AUS) 2.77, Nat Young (USA) 1.57
Heat 4: Kanoa Igarashi (USA) 12.00, Jordy Smith (ZAF) 11.34, Kelly Slater (USA) 2.24
Billabong Pipe Masters Round 3 Results:
Heat 12: Jordy Smith (ZAF) 15.34 def. Alex Ribeiro (BRA) 1.93
Top 5 on the WSL Jeep Leaderboard (after Billabong Pipe Masters):
1. John John Florence (HAW) 59,850 pts
2. Jordy Smith (ZAF) 46,400 pts
3. Gabriel Medina (BRA) 45,450 pts
4. Kolohe Andino (USA) 44,150 pts
5. Matt Wilkinson (AUS) 39,500 pts
Images: © WSL / Poullenot