by Craig Braithwaite
Wildcard Wilcox
Watching day two, as hard as I tried, I couldn't escape a saying my old man used to throw around. We could be doing anything and he'd find a use for it.
At the grocery store looking for cereal. Down in kiddies corner, pushing me into a shorey on a foam-top. Reading my school report card. It was always the same. He'd stare off into the distance and mumble, time to sort the shit from the clay.
Day two at the Margs River Pro, and well … we sorted the shit from the clay.
Margs is a revealing wave. It will reveal a surfer's intentions. There's no room for surfers who want to dodge the ocean.
Both Wilko and Medina turned up, and tried to finesse and toe-poke their way through the full bore, raw Indian Ocean moshpit. They surfed clean, when you had to get dirty. Now they're off touring vineyards, possibly filled with sadness.
Eight-10 foot Mainbreak requires you to wear sets on the head, in order to get the good ones. You can't sit in the safety of the outside and wait for the big bombs, because once you're that deep, it's impossible to be in the right position for a good scoring wave.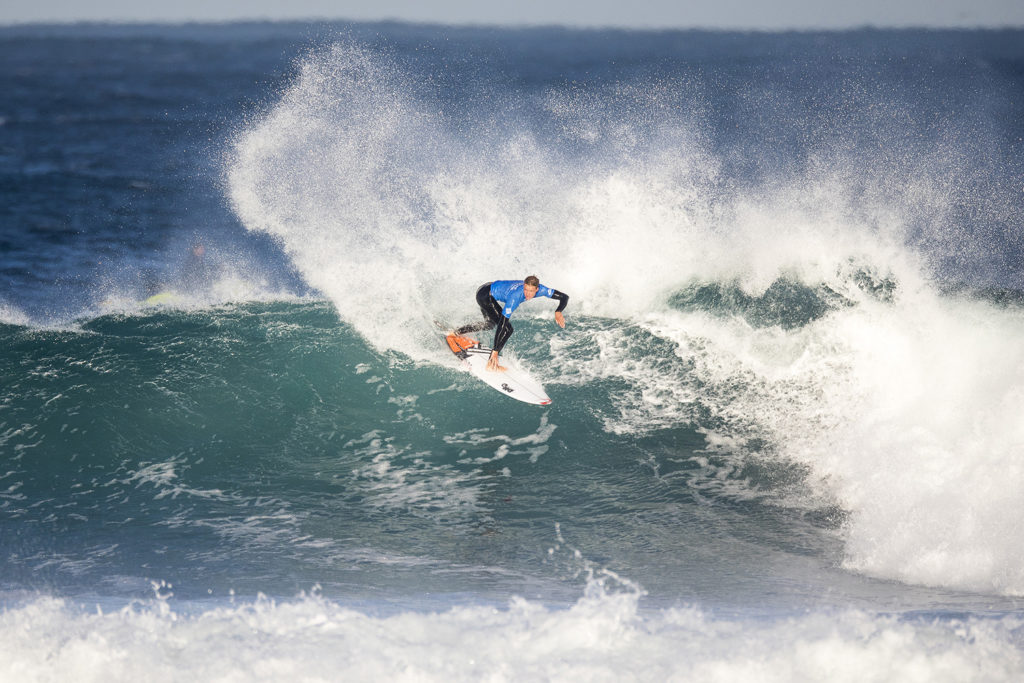 Local Wildcard, Jacob Wilcox knows you gots to get dirty out there. When he put away Medina, it was total de ja vu from last year when another wildcard, Jay Davies rolled Medina up into a little ball and flicked him into the nether.
With John John and Kelly still in the draw, Medina's title campaign will require a solid result in Bells. And right now, he's hoping and relying on John John and Kelly faltering big time at some stage to real in their points.
Surfing Life caught up with Wilcox after his heat. He was pretty stoked.
Also devoured in the day of upsets were, Josh Kerr, Mick Fanning and Zeke Lau. Kerr looks a tad slower than before, and his career trajectory looks to have peaked. After failing to catch a single wave in his round one heat at Northy, Kerr again looked lost.
After saying goodbye to Kai Otten last year, will Australia be saying goodbye to another favourite later this year?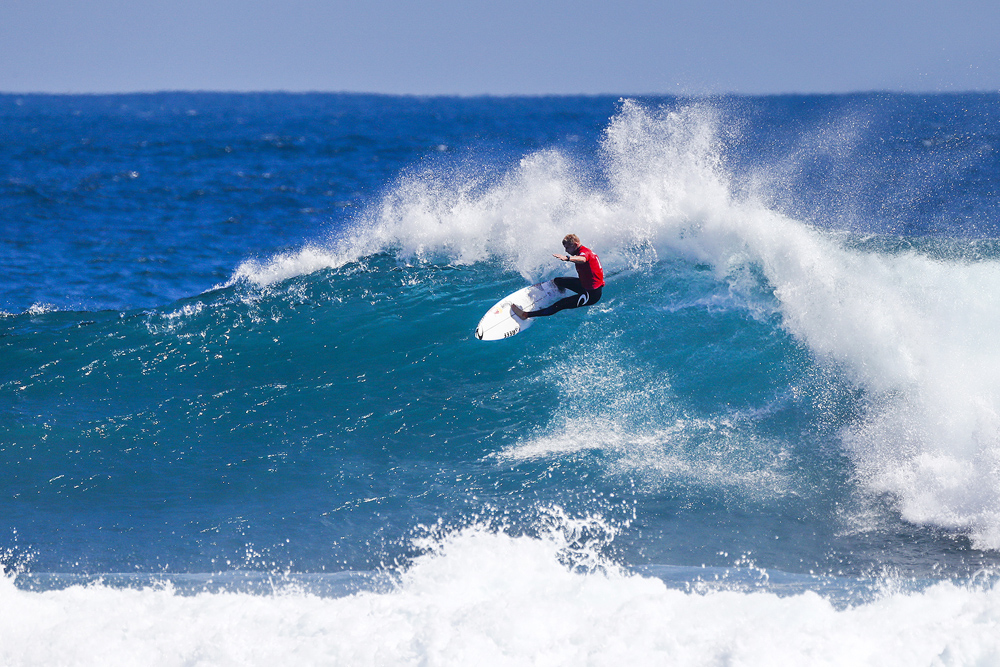 Mainbreak Margs is an event tailor-made for the big Hawaiian rookie. Big, raw, shifting open ocean walls and Zeke couldn't get out of second-gear. He showed glimpses of his power turns here and there, but so far in this young WSL season, he's yet to put together an entire heat.
Rookies
It's so critical for rookies to pinch a few results on the Australian leg of the tour. History will show, the rookies who get results here, don't often get bounced back to the QS.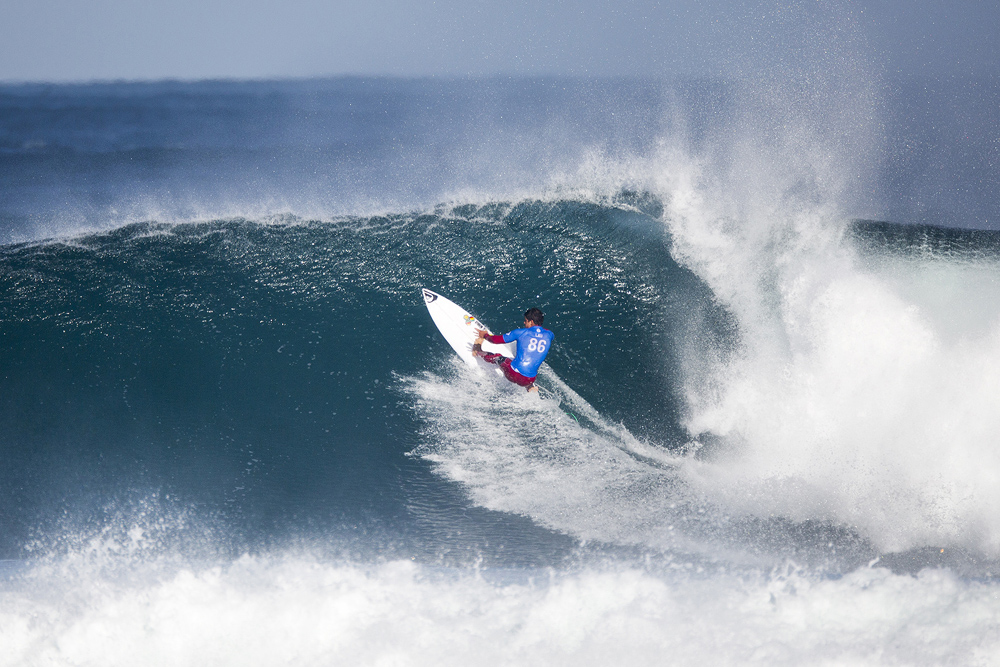 Both Zeke and Ethan Ewing are rookies who coming into the year would have liked their chances of the ROY title. But now … are left wondering internally what they have to do to simply win a heat.
These problems, Connor O'Leary doesn't have. The rangy goofyfoot looked at home in the WA power just as he did at super fun Snapper when he won his way to the quarters. Wow'Leary could set himself up for a massive year if he can repeat his Snapper efforts here in Margs.
As the onshores fluffed up, we typically looked to the girls, and ran halfway through round one. As day three breaks, we're wondering will it be the men at The Box, or the ladies at Mainbreak?
Drug Aware Margaret River Pro Men's Round 2 Results:
Heat 1: Jacob Willcox (AUS) 10.53 def. Gabriel Medina (BRA) 9.00
Heat 2: Nat Young (USA) 14.60 def. Matt Wilkinson (AUS) 11.84
Heat 3: Owen Wright (AUS) 14.40 def. Ezekiel Lau (HAW) 13.00
Heat 4: Joel Parkinson (AUS) 15.86 def. Leonardo Fioravanti (ITA) 14.83
Heat 5: Adriano de Souza (BRA) 14.60 def. Jadson Andre (BRA) 10.84
Heat 6: Filipe Toledo (BRA) 15.00 def. Joan Duru (FRA) 12.03
Heat 7: Bede Durbidge (AUS) 11.83 def. Josh Kerr (AUS) 11.34
Heat 8: Conner Coffin (USA) 14.50 def. Ethan Ewing (AUS) 12.77
Heat 9: Adrian Buchan (AUS) 16.50. Frederico Morais (PRT) 15.50
Heat 10: Connor O'Leary (AUS) 13.43 def. Wiggolly Dantas (BRA) 8.94
Heat 11: Kanoa Igarashi (USA) 12.77 def. Mick Fanning (AUS) 12.76
Heat 12: Miguel Pupo (BRA) 10.87 def. Stuart Kennedy (AUS) 9.17