Trigg Point and waves of consequence aren't really words you find in the same sentence, so in order to do so … we must introduce you all to Andrew Houghton.
Andrew is a 37-year old from the surfing mecca of Perth. He was out at Triggs recently when he found himself paying to play.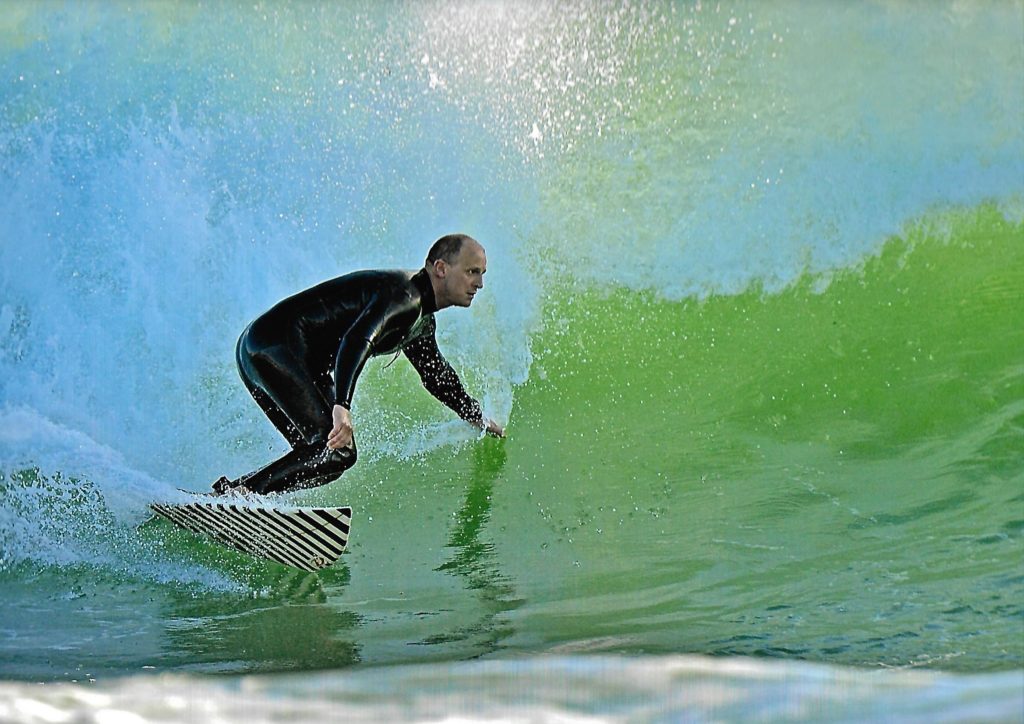 Warning: Don't read on if you're squeamish or had dim sims and chocolate milk for breakfast.
It was 8am and Andrew's watch alarm telling him it's time for work, goes off.
Cruising in on his last wave Andrew recalls, "WHAT the FUCK!!!!" out of nowhere, I first see and then feel, a board flying through the morning sky, fins first like a projectile from the back of the wave in front of me."
"There was a whole lot of white wash, pain and fuckity, fuck. I reach down my leg and my fingers go two knuckles deep into a wound that's just gushing red out into the ocean. I take my hand away and I can see fat and muscle.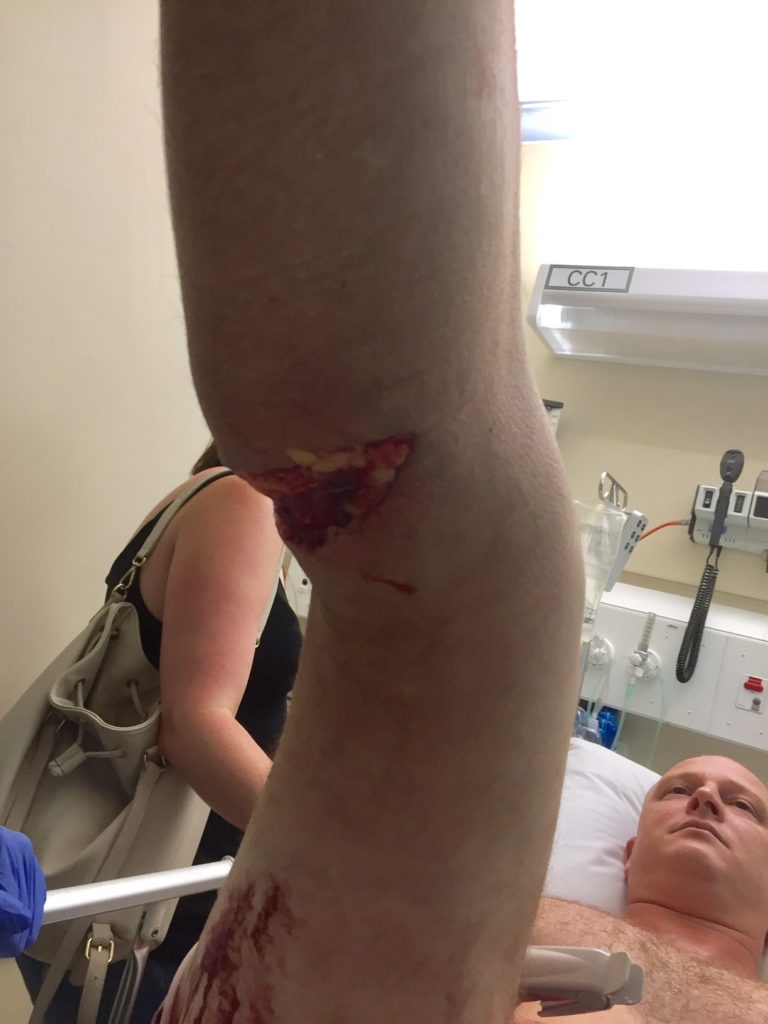 I am not too proud to say that at this point I was freaking out…shock started to kick in as I was screaming for help and the lifeguards … all I kept thinking was "have I cut an artery, am I going to lose my foot… fuck am I going to bleed out on the beach at Trigg Point of all places."
A rush of friends, tourniquets, lifeguards, even the dude who bailed his board and paramedics later, sees Andrew safely to the hospital. Once there, he is rushed into emergency surgery.
The surgeon delivered the sobering news that his main artery was missed by less than a centimetre. Had he hit it, he would have bled out on Trigg freaking Beach. That's anyone's nightmare right there!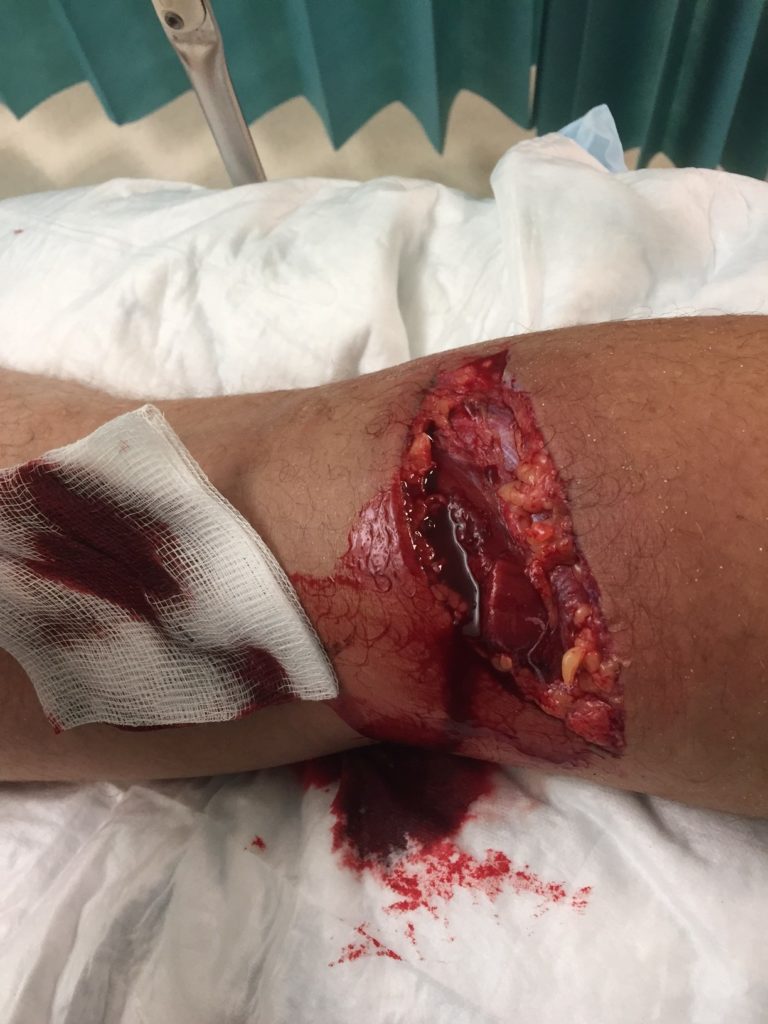 The prognosis, I hear you all ask?
No driving for four to six weeks, brace locked at 45 degrees for two weeks, realistically walking again in 8-10 weeks, surfing in three-plus months.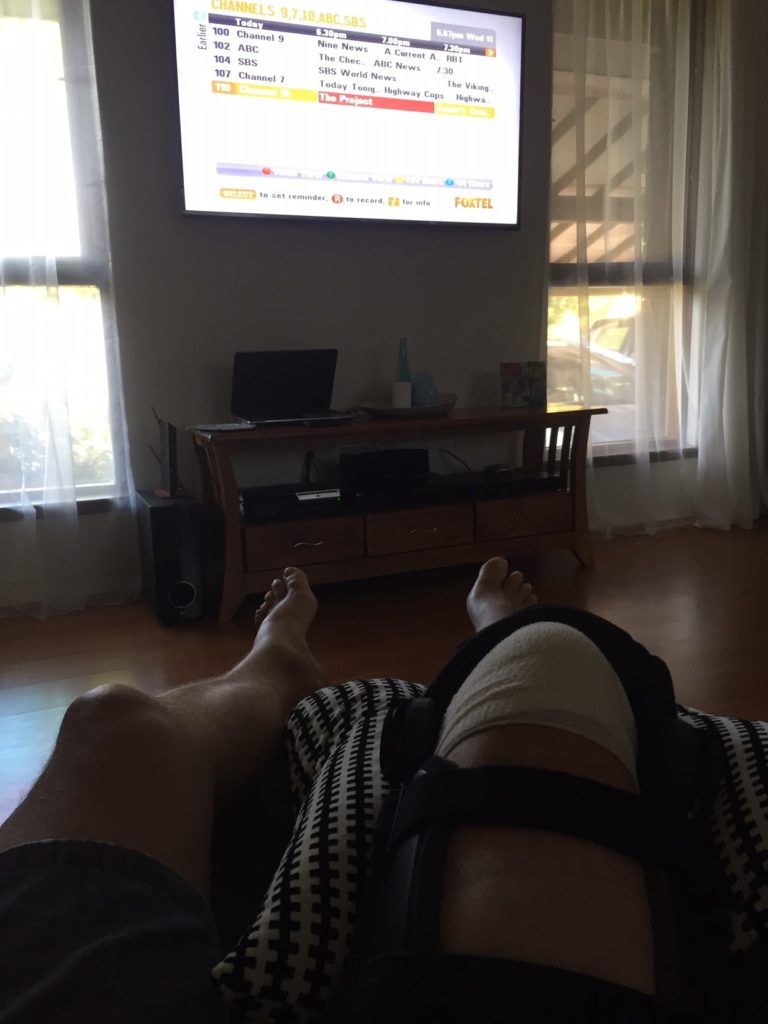 We leave you all with Andrew's final thoughts.
Please, please, please! Surfing is a magical lifestyle that will change your life for the better, but if you are a beginner, you need to learn the basics. Go down to a less crowded beach, wipe out and do your time.
Surfing is hard but that's what makes it so rewarding … if you don't do this, your direct actions can have serious consequences to others in the line-up. If you don't believe me, just look at my photos.
by braithy