by braithy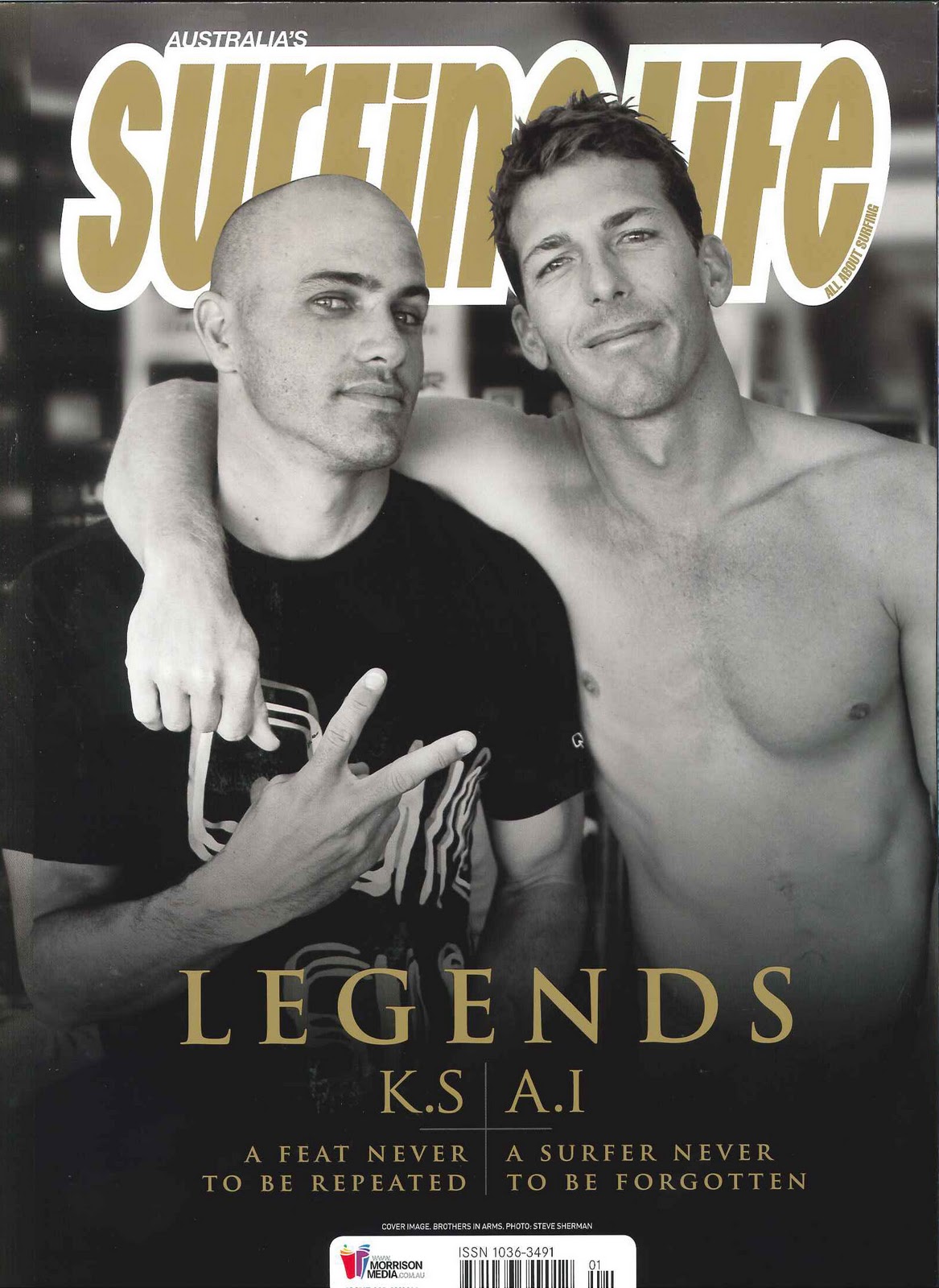 Kelly's only genuine rival in 26 years
Kelly Slater
In 1991 a shipping container filled with 28,000 rubber duckies was lost in the Atlantic Ocean. To this day they are still washing up on beaches all around the world. The thought that Kelly Slater's professional surfing career would last as long as those freaking little ducks, blows our tiny little Surfing Life minds.
26 years later and 2017 will be Kelly's last year on tour. Slater is both the youngest and oldest ever world champion (20 & 39). Perhaps the most mind-popping stat in Kelly's career is, in those 26 years he has only ever had one true rival worthy of his time, Andy Irons.
Is that more of a statement at how much of on another plane Kelly has been, or is it a statement of how ordinary everyone else has been? Either way, one genuine rival in a 26-year career … well that blows our mind more than those fucking ducks that are still floating in the Atlantic.
Kelly will be determined not to turn his final season into a Kobe Bryant style farewell tour – where he's there in person, but not in spirit and nowhere near being in the title conversation. Despite some saying otherwise, Kelly Slater is not and has never been the best athlete in the world, but as far as we're concerned he is the most competitive athlete in world sports.
Right now he's willing his body to match his mind, and he's standing at the foot of the 2017 mountain. If Kelly can get his body healthy (shoulder and knee issues), he can win the title, and that would be beyond interesting.
At 45-years of age, winning a world title wouldn't just be his greatest achievement, it would be bigger than all of his previous 11 titles combined. It wouldn't just be an act that would last until the end of time in professional surfing, but maybe in all of sports. It would supersede George Foreman as the greatest feat by a mature age athlete ever.
Big George won a heavyweight title fight when he beat Michael Moorer at 45-years of age when he wore the same red trunks he lost to Ali in. But be sure here people, John John Florence and Gabriel Medina aren't the easy beats, Moorer was.
Are we witnessing the greatest big wave surfer of our generation, maybe ever? Photo: Murray
Greg Long
The most decorated surfer in the Billabong XXL Global Big Wave Awards could have been a regular world tour surfer. He won the men's NSSA National Open title in 2001 (previous winners include, Andy Irons, Kalani Robb – twice, Kolohe Andino, Bobby Martinez etc) but Long shunned the tour and its money to pursue big waves and revel in the comradery in and around them.
Long has two second places at Puerto and Pe'ahi and narrowly missed out on a semi final birth at Nazare by .40 of a point. After fighting his demons when he drowned at the Cortes Bank, Greg Long surfs with a deep determination and fearlessness which is only matched by his skill in taking big, late drops and sticking them in code brown conditions.
If Long can snag consistent semi final results or better in Todos Santos, Chile and Peru and win the BWT, he will become the greatest big wave surfer of our generation and is in the convo of the best surfing has ever seen.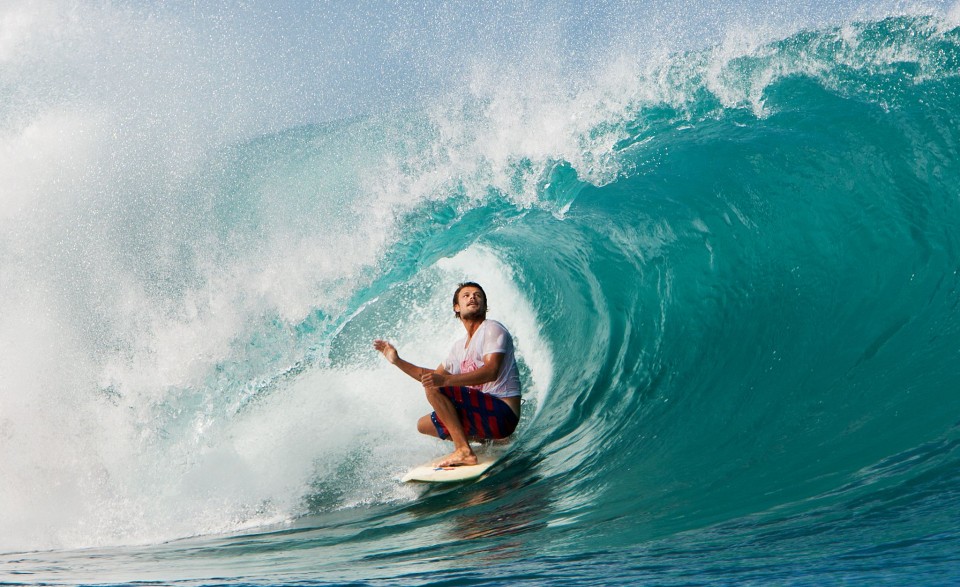 If he's not the best in the world, he's in the grand final. Photo: CISurboards.
Dane Reynolds
After chapter 11's release and at the of age 31, Dane proved beyond all doubt he can still surf better then anyone on the planet not named John John Florence. Even then it's debatable who's better. JJF is the only person who goes higher than Dane, but Dane throws more spray and looks a helluva lot more stylish and ferocious doing it.
John John probably gets the nod as the best surfer in the world because he's won in all conditions from the Eddie in Waimea to the snooze festival in Rio beach breaks. But, who would you rather watch surf, Dane or John John? We're torn.
I remember losing my job the year my daughter was born, and along the way found myself suffering multiple panic attacks, as I found my feet as a father trying to provide for my family. Dane can probably relate to all of that, and now Sammy Boo is growing up and will be two this May, Dane has had time to adjust to fatherhood and also to adjust to where he sits on the surfing totem pole without Quiksilver flipping the bill.
Fuelled by parting ways with his childhood sponsor, Dane Reynolds will smash 2017 recharged and charging, and release the most intense and acclaimed feature film from a surfer this year.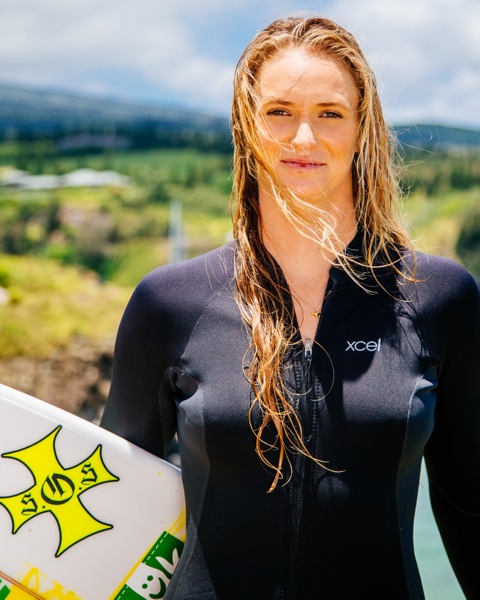 Cannot, and we mean cannot, be beaten …
Paige Alms
Paige is the most unbeatable surfer in the world in her division. She started surfing Hawaii's' outer reefs at the age of 15, and since then has honed her craft at Jaws where she's been a regular paddling in at every big swell which lands on Maui. Alms has caught the biggest wave by a female and owns the distinction of the biggest barrel by a female. Such is her ability out at Pe'ahi she often upstages the men who surf those same swells.
She won the Pe'ahi BWT Challenge final by more than double her nearest rival's score and surfed at a completely different level to the other girls all contest long. Paige would have beaten many of the men if she drew them in heats that day, such is the way she went after it at Jaws.
If Paige gets beaten in any future BWT event in 2017, we'll cover our genitals in butter and snapchat them to Barack Obama under the title, butter covered giblets.
In fact … if big waves broke consistently and the ladies BWT ran each year, Paige would outdo Kelly and his 11 world titles, and it wouldn't even be close.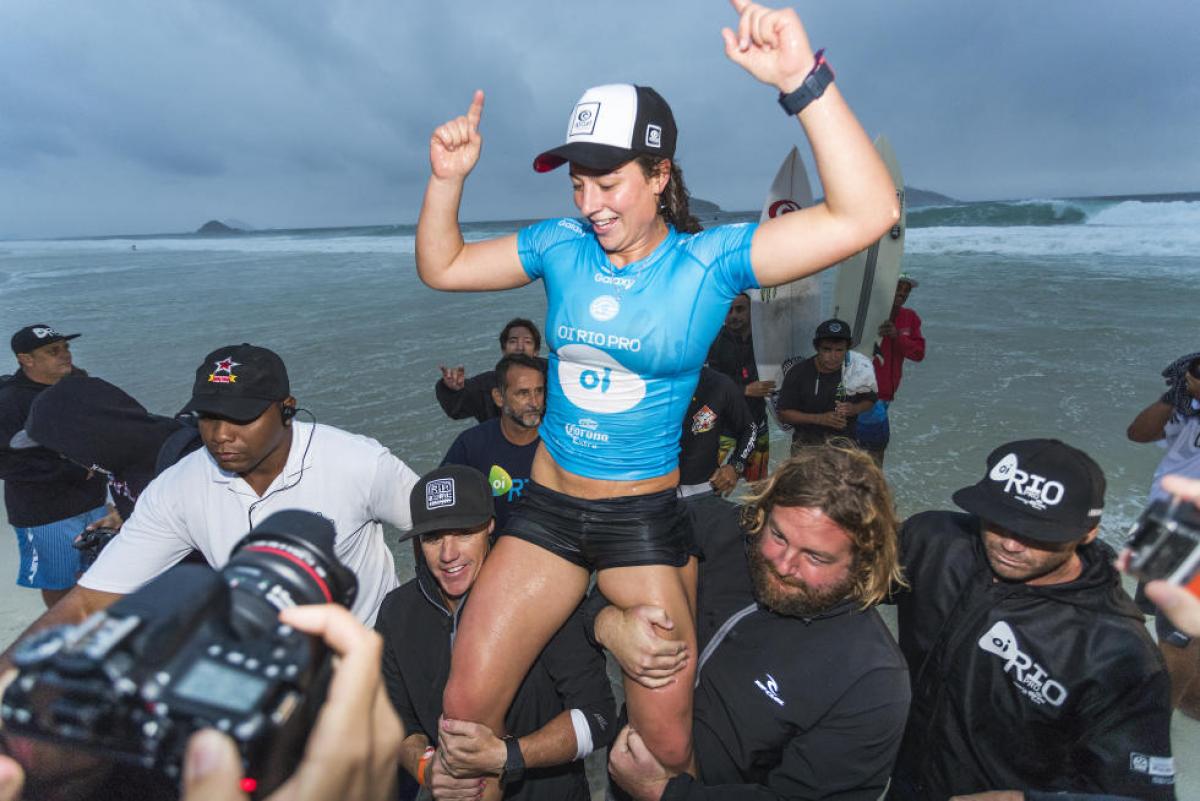 Number one with a bullet. Photo: WSL
Tyler Wright
Can she go for back to back titles in 2017? If so, she'll become the first girl to do that since 2009/10 when Steph did it.
Tyler put up arguably the most dominant display in tour history, with seven finals appearances from 10 events for five event wins and along the way looked unbeatable. To put that in context, she is the first surfer to ever exceed the 70,000-point barrier in a single WSL/ ASP season (Slater's highest is 69,000 points).
That kind of dominance will be hard to replicate. And Steph showed she's not done when she combo'd both Carissa and Tyler in the pipe invitational. Although not for world title points, that heat was as competitive as any of the men's that day, with each girl paddling deeper up the reef looking for a winning ride.
The Pipe Invitational result aside, Tyler will only get stronger. She already finishes her turns harder than any of the girls on tour, and the fact Pipe and Teahupo'o aren't on the girl's tour calendars, means the girls tour is still all about turns … and no one turns harder and applies more force to her rail than Tyler Wright.
Tyler has a distinctly unusual personality compared to the other women on tour. She consistently professes her disinterest in achieving results, dances her way through her warm up routines, yet ruthlessly slaughters all who stand in her way.
Despite appearances there's a fire in that belly; more power, more tweak, bigger harder faster. Makes you wonder if she feigns disinterest to put her competitors off their game – a wolf in sheep's clothing; a Slater dressed as a Machado.
We expect Tyler to go back-to-back, just not by the ridiculous 12,000 points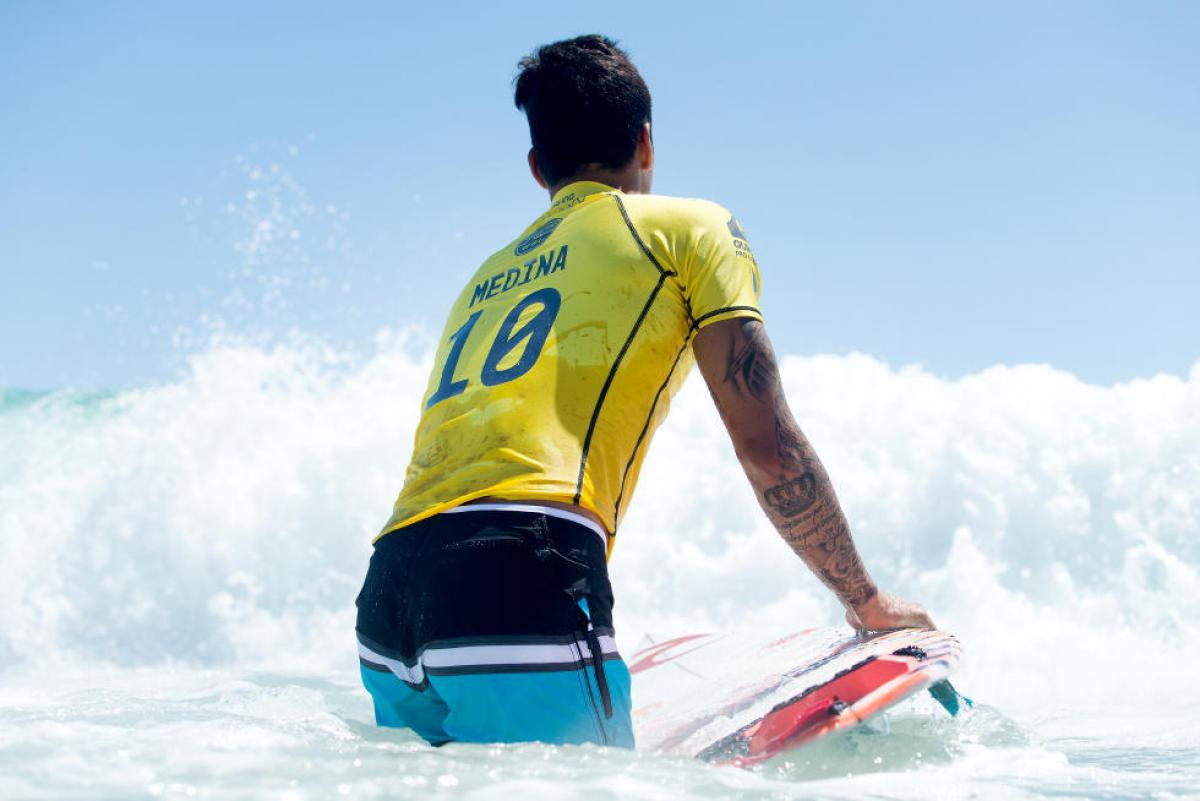 As far as Gabriel is concerned, the yellow jersey in its rightful spot. Photo: WSL
Gabriel Medina
Gabriel Medina is the richest, most watched and followed man in surfing. He's revered like a genuine king in his home country, he goes wake boarding in his downtime with Brazil's other favourite son, Neymar Jr – who has more followers on Twitter, than Australia has people.
Gabriel lost his world title crown to compatriot Adriano De Souza the following year and last year looked like the only true threat to John John's title.
I spoke to Gabriel in 2013 and he doesn't just want the money and fandom and fame which goes with a world title. Gabriel wants to be the best surfer in the world and own the world title every year. He has a hunger and competitiveness in the mould of Slater's, and John John's world title will be burning him up inside. It will be the first thing he thinks about when he wakes up and the last thing on his mind before he sleeps at night.
Gabriel Medina wants to be a part of surfing history and mentioned in the same breath as Kelly Slater, and if that vision he had of himself in 2013 is to come true, it all starts with winning the 2017 world title back.