• Kai Otten was forced into retirement after Kolohe scrambled at the buzzer and produced the winning wave. Kai didn't qualify for the world tour until he was 27-years old and at that point if someone had offered him a decade on tour, I'm sure he would have taken it and run.
Strider is already lobbying for Kai to join the tour as part of the commentary team for next season.
Why Strider is a genius: Kai is a smart, insightful and super witty guy who would bring loads of colour and insight into the WSL productions.
Why Strider is not a genius: It would be ironic if Kai came into the team at Strider's expense.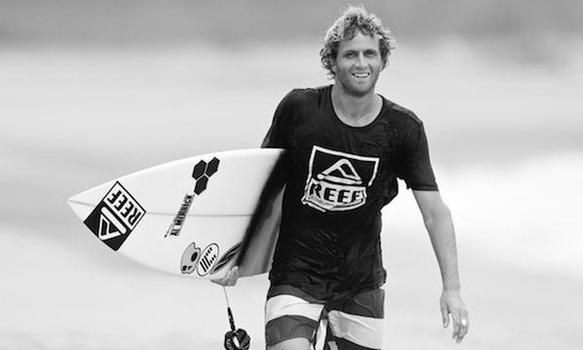 Good onya Kai, it's been unreal. Photo – Reef
• No rookie has ever won a tour event and failed to qualify for the tour in the same year. Until now. Keanu Asing finds himself back on the QS, which is remarkable considering he won in France. He's claimed some big scalps this year and heading into the Hawaiian leg of the tour, Surfing Life thought his place on the WSL was assured.
The guy who ultimately knocked Asing off was Kanoa Igarashi, who by doing so, all but saved his own bacon. Speaking of bacon, once Kanoa adds some meat to his bones so he can finish his turns with force, he will positively trouble the top end of tour. Who knows, Kanoa could be the first American Champ not named Kelly Slater since around the turn of the century.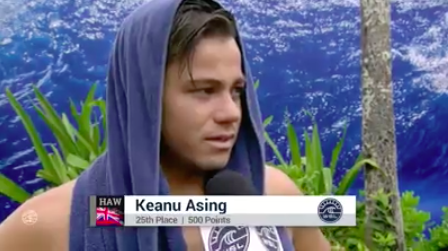 Talk about a whirlpool of emotions. After winning in France and being on home sand, no one thought Asing would be here. Photo WSL
• Despite not qualifying for next year's WSL Ryan Callinan is a good surfer. A damn freakin' good one, and he's showing it here at Pipeline.
How good was Ryan, I hear you all ask??
Well he took down Medina in comprehensive style, and he managed the highest heat score of the day. That's right, today he would have beaten both John John and Kelly!
It goes to show his problem is between his ears. With nothing riding on the results, he's surfing calm and loose. So calm and so loose that if he keeps it up he could be the unlikeliest of Pipe Master winners that we can ever remember.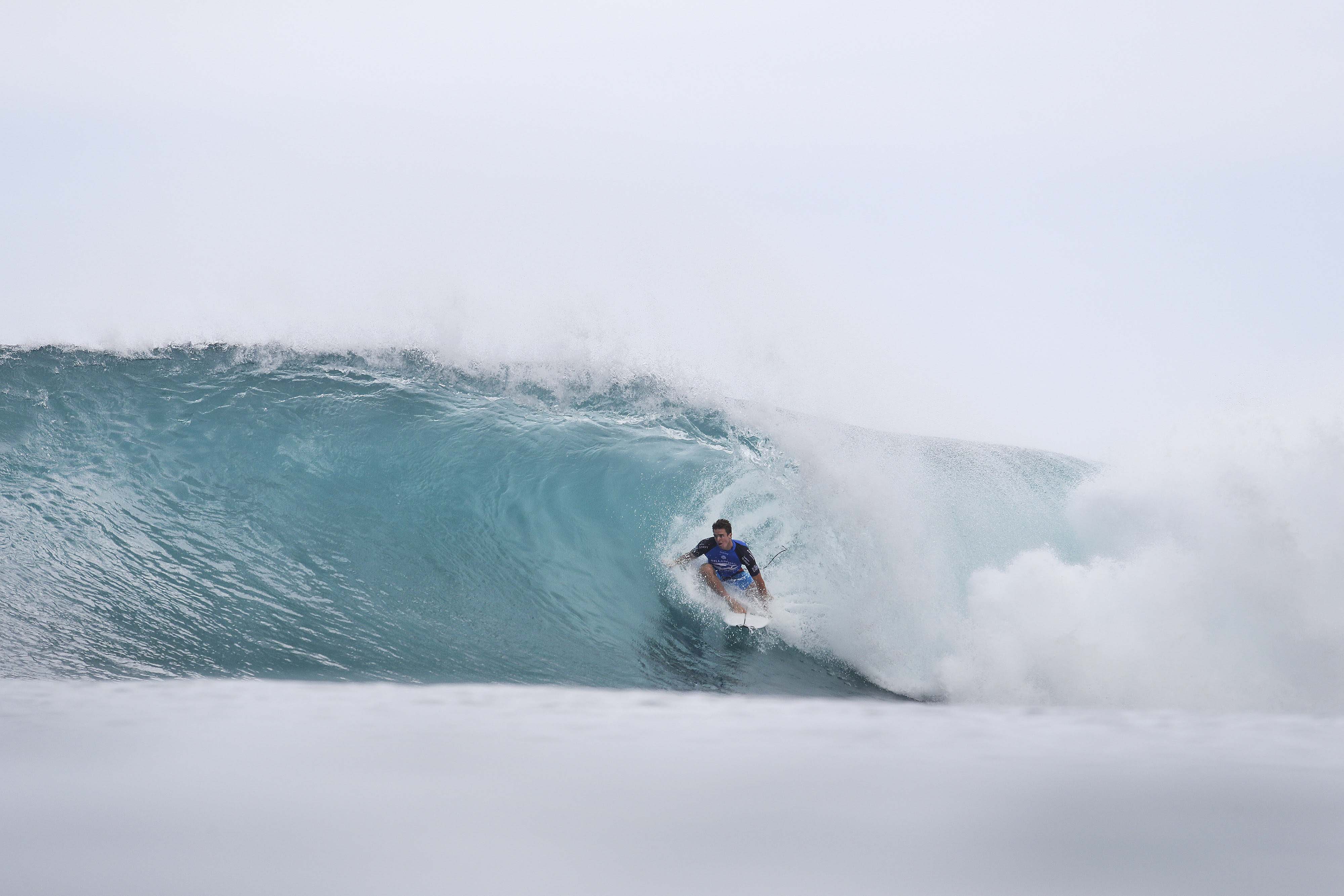 Small backdoor is a tricky lineup for a goofy foot, just not this one; Ryan Callinan. Photo WSL/ Cestari
Billabong Pipe Masters Round 2 Results:
Heat 1: Kolohe Andino (USA) 12.50 def. Gavin Beschen (HAW) 3.60

Heat 2: Adriano de Souza (BRA) 14.67 def. Bruce Irons (HAW) 11.30

Heat 3: Joel Parkinson (AUS) 11.74 def. Finn McGill (HAW) 11.00

Heat 4: Sebastian Zietz (HAW) 12.76 def. Frederico Morais (PRT) 8.17

Heat 5: Bede Durbidge (AUS) 8.29 def. Adrian Buchan (AUS) 5.17

Heat 6: Ryan Callinan (AUS) 12.16 def. Caio Ibelli (BRA) 4.43

Heat 7: Josh Kerr (AUS) 14.50 def. Adam Melling (AUS) 7.00

Heat 8: Kai Otton (AUS) 4.93 def. Stuart Kennedy (AUS) 2.73
Heat 9: Conner Coffin (USA) 15.10 def. Jack Freestone (AUS) 13.93
Heat 10: Wiggolly Dantas (BRA) 5.93 def. Davey Cathels (AUS) 5.90

Heat 11: Nat Young (USA) 11.27 def. Jadson Andre (BRA) 6.00

Heat 12: Kanoa Igarashi (USA) 10.50 def. Keanu Asing (HAW) 8.26
Billabong Pipe Masters Round 3 Results:
Heat 1: Jeremy Flores (FRA) 13.84 def. Matt Wilkinson (AUS) 7.43

Heat 2: Filipe Toledo (BRA) 10.44 def. Wiggolly Dantas (BRA) 4.13

Heat 3: Kolohe Andino (USA) 10.83 def. Kai Otton (AUS) 10.07

Heat 4: Joel Parkinson (AUS) 12.10 def. Miguel Pupo (BRA) 8.74

Heat 5: Michel Bourez (PYF) 12.16 def. Itala Ferreira (BRA) 10.34

Heat 6: John John Florence (HAW) 15.27 def. Bede Durbidge (AUS) 9.94

Heat 7: Ryan Callinan (AUS) 15.34 def. Gabriel Medina (BRA) 11.43

Heat 8: Josh Kerr (AUS) 7.33 def. Sebastian Zietz (HAW) 2.94

Heat 9: Nat Young (USA) 8.00 def. Adriano de Souza (BRA) 3.34
Heat 10: Kanoa Igarashi (USA) 7.50 def. Julian WIlson (AUS) 3.60

Heat 11: Kelly Slater (USA) 15.27 def. Conner Coffin (USA) 15.20
Upcoming Billabong Pipe Masters Round 3 Match-Ups:
Heat 12: Jordy Smith (ZAF) vs. Alex Ribeiro (BRA)
Billabong Pipe Masters Round 4 Match-Ups:
Heat 1: Kolohe Andino (USA), Filipe Toledo (BRA), Jeremy Flores (FRA)

Heat 2: John John Florence (HAW), Michel Bourez (PYF), Joel Parkinson (AUS)

Heat 3: Ryan Callinan (AUS), Josh Kerr (AUS), Nat Young (USA)

Heat 4: Kanoa Igarashi (USA), Kelly Slater (USA), TBD