Words and images by Brad Bricknell
Eric Arakawa's surfboards are famous the world over. Every surfer with wax in their toenails has heard of him, and many a North Shore pilgrim has had at least one Arakawa blade in their quiver.
Eric has made boards for world champions and icons of the sport like Andy Irons, to recently signed young rookies like Jack Robinson and Ethan Ewing, as well as for the locals that call Oahu home. A humbler man you will not meet.
We make our way to the factory, down the back streets past Haleiwa towards the Waialua Sugar Mill. The building is unassuming from the outside, much like the man himself. The corrugated walls reveal an entrance that leads into the showroom where Eric is sitting around a table going over an order with a customer. He loves people and he prides himself in the detail.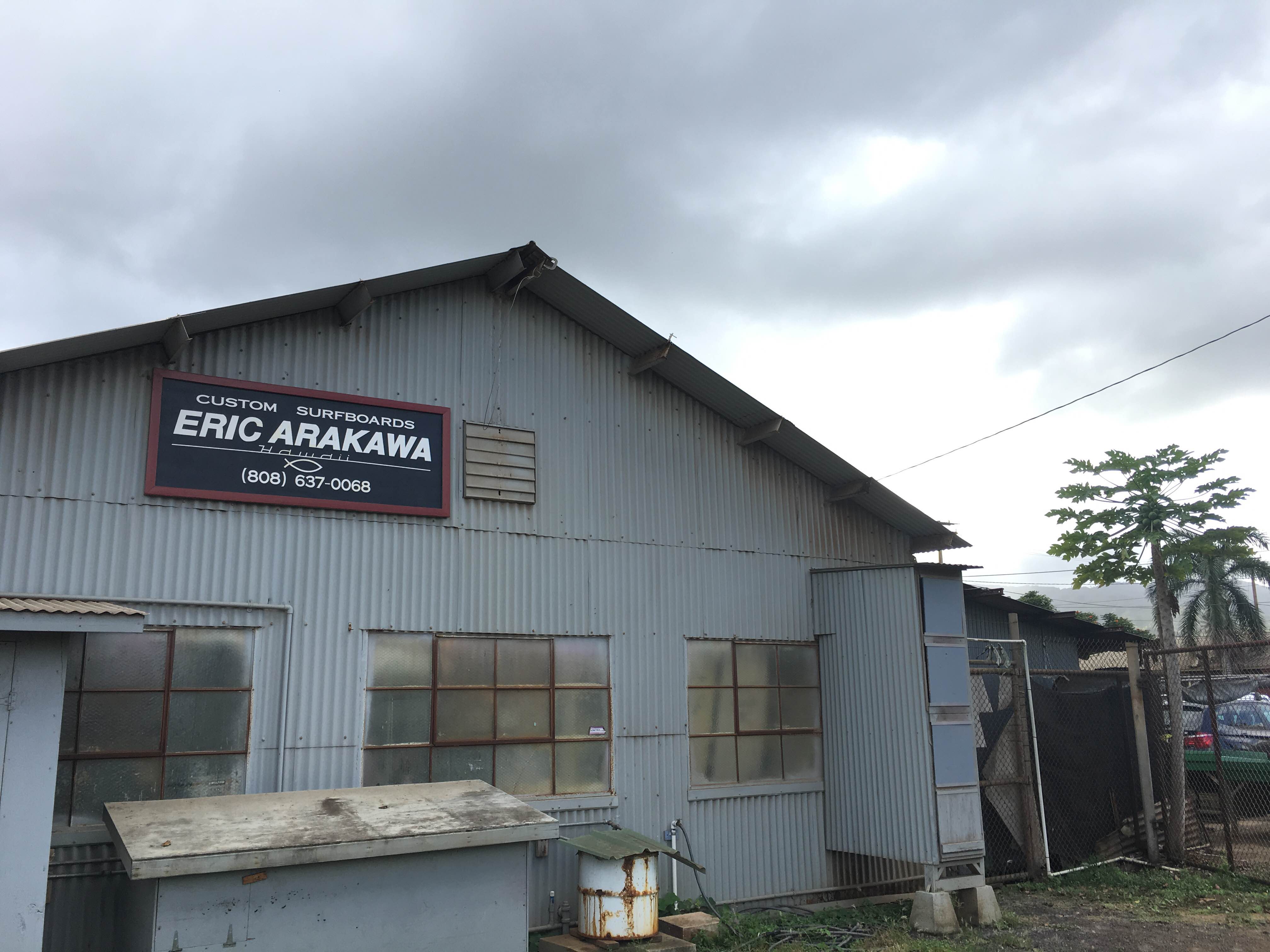 Like the man himself, the factory is unassuming
We reacquaint after a brief meeting in Australia earlier in the year and get talking about business. It's the factory's busy season with pro surfers from all over the world dialing in their quivers for the winter, dropping into the shop to pick up boards and talk story with Eric. And that's exactly what Eric likes to do. After a few tough seasons in the industry he's going back to the good old fashion surfer/shaper relationships this trade was built on… with a renewed focus on the custom board programme.
His son Sean is managing the shop, online and social media, giving Eric more time to do what he loves. Once inside the shop it's hard not to pick out every board from the rack and straddle it under your arm, running your eyes down the rail and feeling the sleekness of the pulled in tails.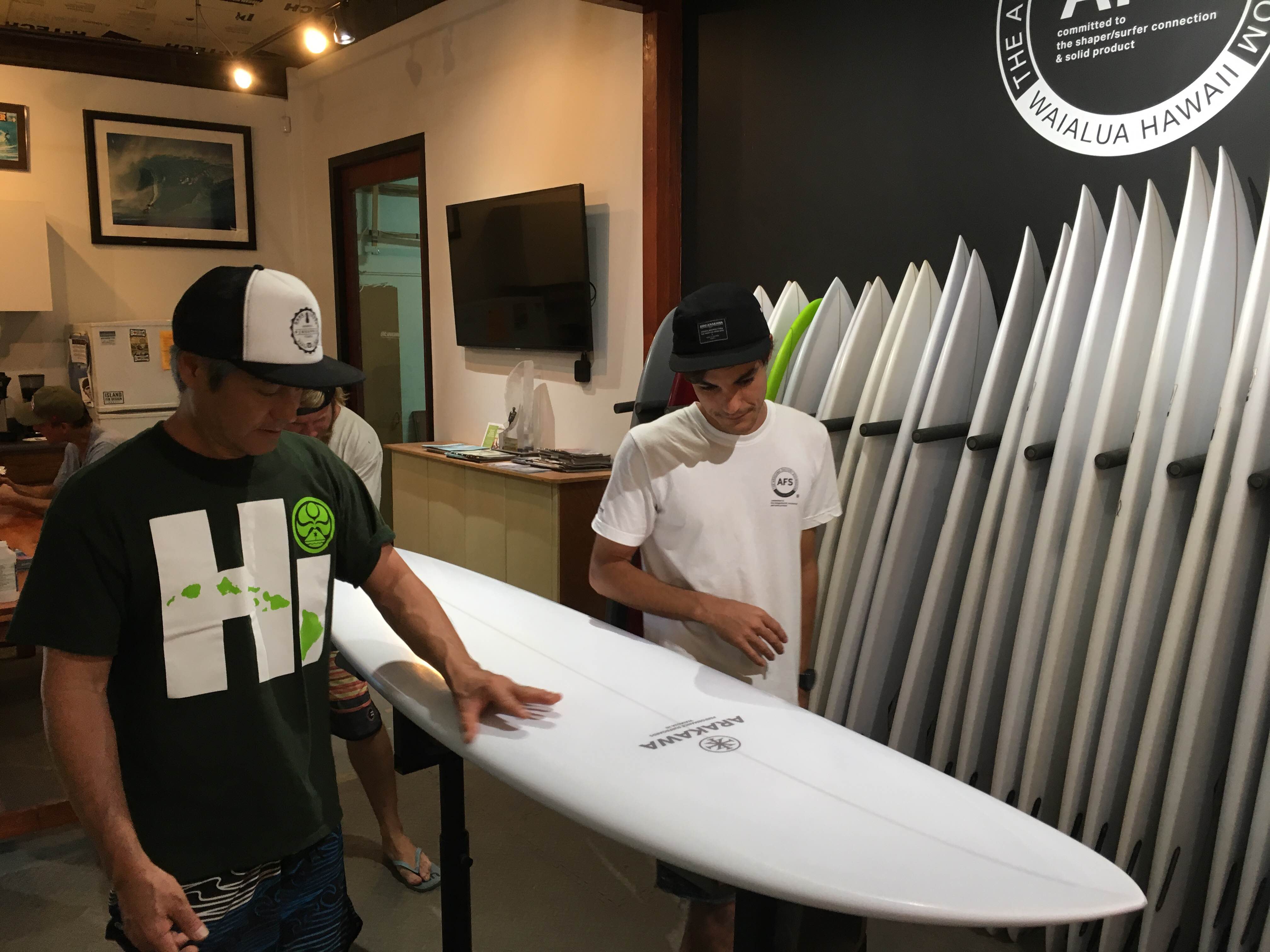 Eric and his son Sean go over the fine lines of another finished shooter

But it goes deeper than dimensions and bottom curves for Eric. Although he's a stickler for quality and putting his very best into every board he shapes, as a man of faith he speaks openly about his place in the world. To him shaping is a calling and a way to connect and engage with people. He's come to terms with the fact that he started shaping so he could surf more – and now he has a successful business that enables thousands of others to surf… probably a little more than he does these days.
Sean brings a board through to the showroom and proudly shows it to his Dad. It's a board he's helped design and this was the finished product. He was planning to surf it that afternoon, but Eric spotted a small blemish on the board and ordered it back to be rectified. For him, the beauty is in the smallest of details. It's how he views life, his business and people.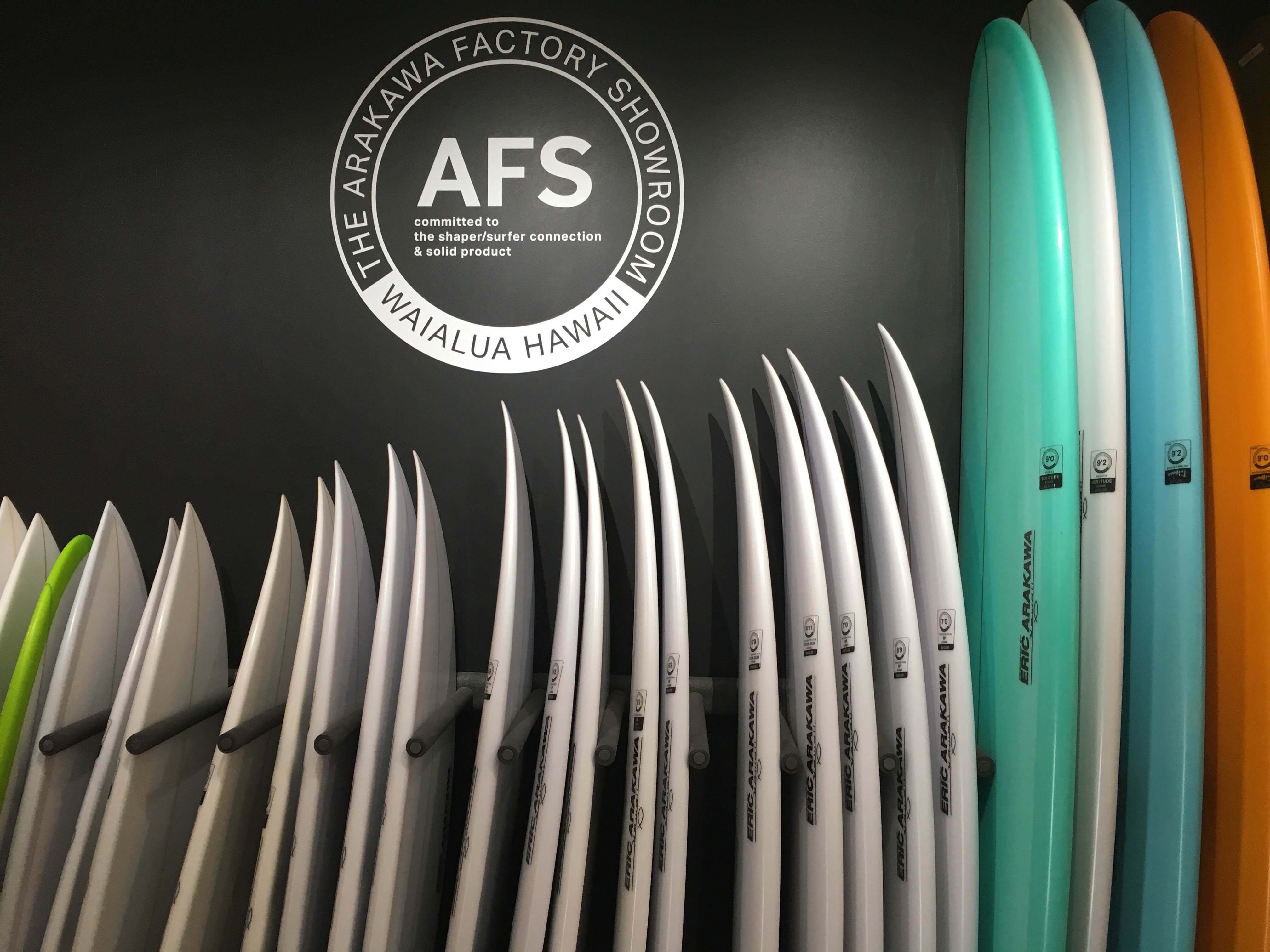 One of the hardest choices in life; trying to choose just one Arakawa
I start to reflect on the influence Eric would have had on so many people. His humble and grateful approach to life would have rubbed off on so many, young and old. He's one of those guys that you'd like to spend more time with, like a family member from a far away land that you could listen to all night. Like the wise sensei that is the master of his craft, sharing his wisdom around a campfire. Eric Arakawa might make magic surfboards, but that's not what defines him, it's not even close. He talks about his Christian faith with a quiet passion that draws you in a little closer. His faith is such, that it feels like he'd rather be known for who he is, rather than for what he does.
I'd heard he had a fresh batch of boards just finished for Andy when he got the call about his passing. A special relationship that was built on a common love of wave riding and passion for life. A photo of the two of them still hangs on the wall in the shop – a great reminder of the frailty of life. They shared a special bond, and it's one he will always cherish. He recently made a board for Andy's son Axel, for his 6th birthday, and so the Iron's bloodline continues.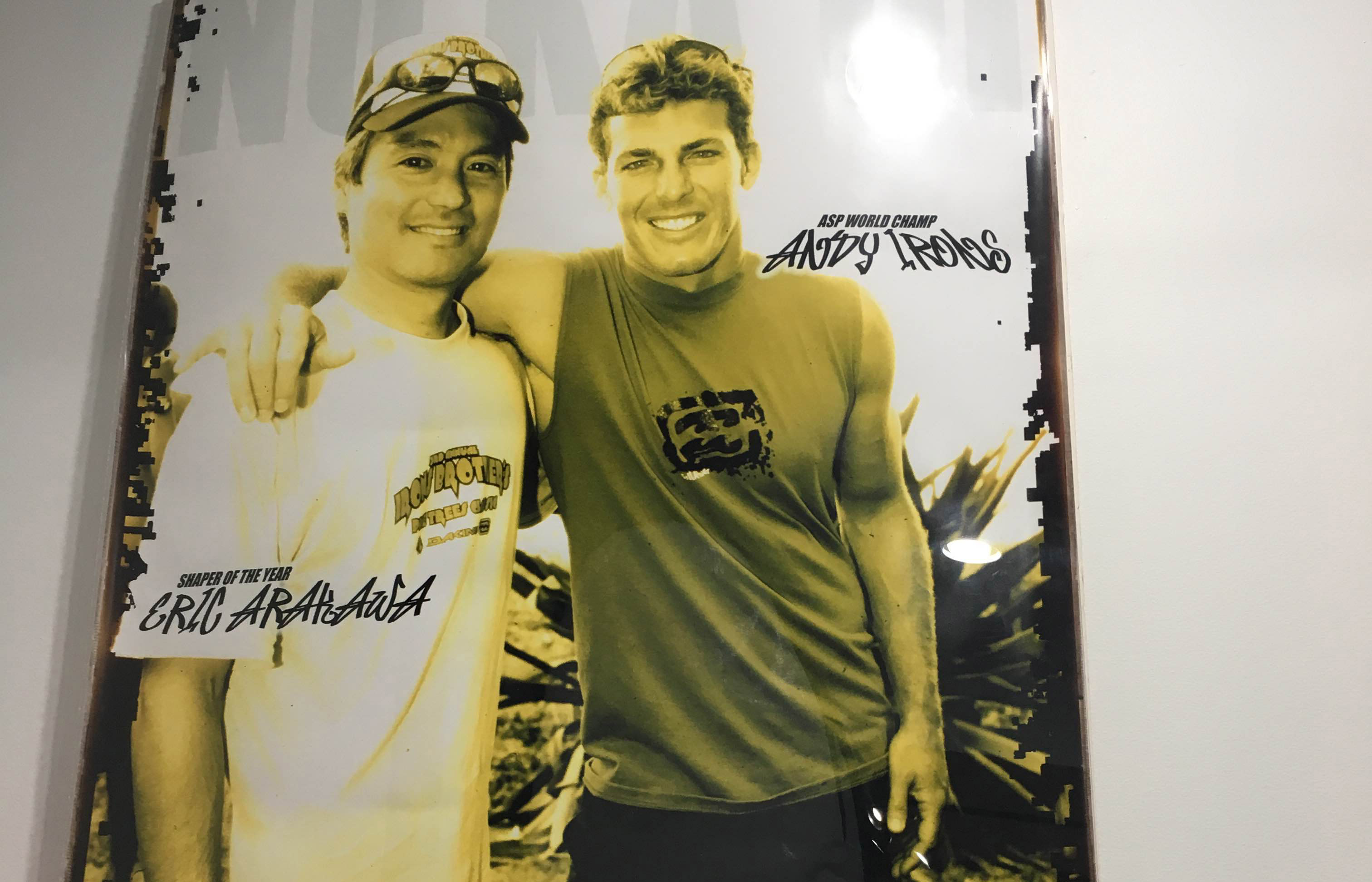 AI FOREVER!
I leave the showroom feeling uplifted after spending some time together and on the way out I spot a newish looking 6'10 in the second hand rack. There is a fresh swell coming and I've been feeling a little under-gunned. It feels good under my arm, they all do.
A few days later I'll find myself back there with a wad of cash in my back pocket and my first Eric Arakawa blade loaded into the back of the truck. It gave me a strange feeling of confidence, like he'd handed me the keys to a secret weapon.
All I had to do now was try do it justice.