A 65-year-old surfer escaped with just minor cuts to his foot after a terrifying shark encounter at Booti Booti National Park, Seven Mile Beach near Forster on NSW's mid-north coast.
It is understood the victim, Colin Rowland, was surfing the notoriously sharky area when a great white shark attacked from underneath, splitting his board in two at around 9am this morning.
The shark then caught hold of Mr Rowland's leg rope and proceeded to drag him underwater before eventually swimming away.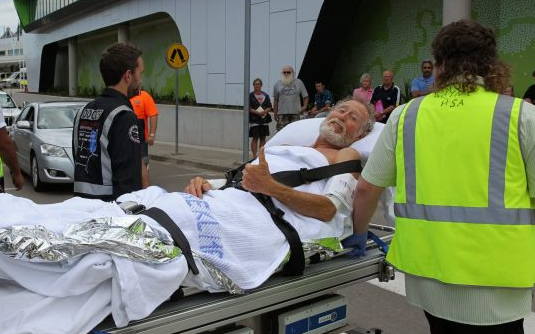 Mr Rowland swam into shore and contacted emergency services himself. He suffered deep cuts to the bottom of his foot from the encounter.
Graham Nickerson, from the Westpac Rescue Service, told ABC News that Mr Rowland was in good spirits despite his ordeal.
"Apparently the shark came up under his board, snapped his board in two and then dragged him under by the leg rope," Mr Nickerson said.
"He's quite happy … considering what he's been through, but he's got pretty severe lacerations to his lower limbs, but he's in a stable condition. He did mention to us that he needs another surfboard, which is pretty evidenced when you see the pictures of the surf board snapped in two with a large bite out of it," he said.
The shark is believed to be a great white and was estimated at between 2.5m and 3.5m long with the beach now closed until further notice.
{source}
<iframe src="https://www.google.com/maps/embed?pb=!1m18!1m12!1m3!1d46511.56527385953!2d152.5262228242964!3d-32.254484614495794!2m3!1f0!2f0!3f0!3m2!1i1024!2i768!4f13.1!3m3!1m2!1s0x6b743986bcc01ce7%3A0xf0609b573fef890!2sBooti+Booti+National+Park!5e0!3m2!1sen!2sau!4v1480563166541″ width="600″ height="450″ frameborder="0″ style="border:0″ allowfullscreen></iframe>
{/source}