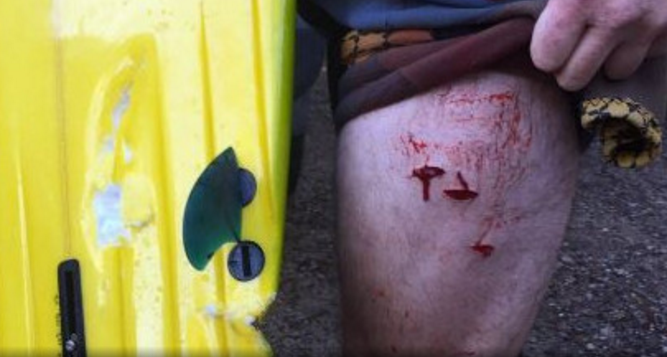 Above: Local surfer Geoff Knapp took this shot of the injury before the man was taken to hospital. Source: Instagram
A man has escaped with puncture wounds to his thigh after an encounter with a shark while surfing at a Northern NSW beach this morning.
According to the Gold Coast Bulletin, the 36-year-old was surfing at Broken Heat at 7.30am this morning when the shark attacked, biting his leg and damaging his surfboard.
It is understood the man was then driven by a friend to a local hospital where he was treated.
Police and lifeguards have been on-scene clearing the water of swimmers and surfers, with all beaches in the area, including Byron Bay, now closed.
A surfer who witnessed the incident told The Bulletin she saw the board go flying into the air during the attack.
"I'm pretty sure his board went flying into the air and he got a mass, just a chunk out of his leg and side," said New Zealand tourist Belinda Holland told Today.
"There was a lot of blood … it was pretty freaky."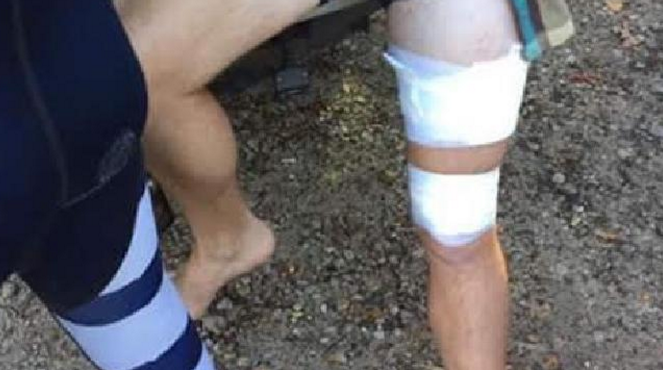 Photo: Sam Burbury — Facebook.
The attack comes just weeks after a 25-year-old was bitten on the leg at nearby Sharpes Beach on October 13 and a month after Cooper Allen, 17, survived an attack at Ballina on September 26.
{source}
<iframe width="560″ height="315″ src="https://www.youtube.com/embed/zNX0EY6pEig" frameborder="0″ allowfullscreen></iframe>
{/source}