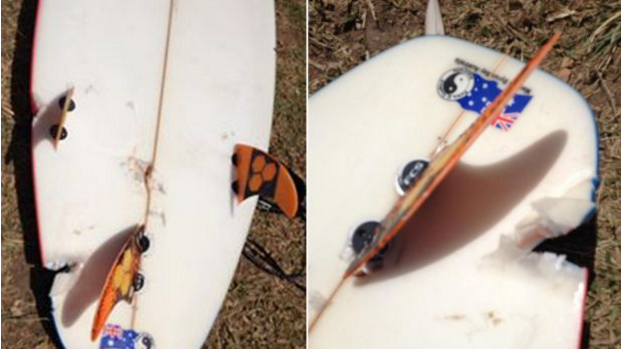 A surfer was reportedly "launched into the air" by a shark when he was attacked while surfing at Ballina this morning.
It is understood the 25-year-old man was surfing with friends at Sharpes Beach when the shark rammed into him, sending him off his board at about 10am this morning.
According to the Gold Coast Bulletin, witnesses reported seeing the man being launched into the air and screaming, before his friends warned others to get out of the water.
The man admitted himself to nearby Ballina Hospital where he received stitches for a wound to his right leg.
It is the second attack at Ballina in just three weeks after 17-year-old surfer Cooper Allen was bitten by a suspected great white shark at nearby Lighthouse Beach.
As a result of the attack, all beaches in Ballina are now closed for 24 hours.
Meanwhile, NSW Premier Mike Baird has announced has backflipped on his shark net policy, announcing during parliamentary question time that he will introduce a six month trial of the nets on Northern NSW beaches.
"But ultimately we get to the point … where we have to prioritise human life over everything," Mr Baird told parliament.
"The sentiment in that North Coast community has shifted. It was against nets. The recent attacks have started to shift that. There is a mood and a change within that community."
Mr Baird said his previous announcement of 85 'smart drumlines' to be rolled out on NSW beaches will still go ahead alongside the shark net trials.
The 70km stretch of coast around Ballina has experienced 12 attacks, one of them fatal, since the start of last year.