Words Mimi LaMontagne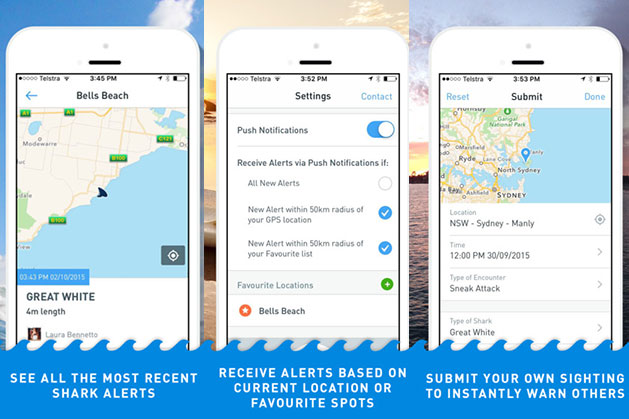 So, we all know that the NSW government has started launching high-tech drum lines off their northern coastline, along with helicopter patrols and in-depth scientific research, all in an effort to stop, as well as understand, the last 12 months of horrific and frequent attacks. But now, as with everything these days, there's an app for that.
Meet Dorsal, the application that alerts you every single time a shark is sighted on the Australian coastline (or, if you like, only certain areas). We talked to the man behind the interface, Allan Bennetto, to get the run down on how it all works.
"Basically, the app alerts you to all shark sightings around Australia in real time, by pushing a message to your phone as soon as anything comes through. They are also able to be customized so that you only receive reports in your area of your favourite break.
The app came to fruition this past July, when a Tasmanian scallop diver was killed by a Great White in front of his daughter. "Apparently a group of fishermen had seen the shark in the water the day before and didn't know who to tell, and when they finally did, there was still no alert that was broadcast," says Allan. "That kind of kicked me into gear to look at doing something, so I did a bit of research and realised there was no central reporting or alert system around. So I ended up biting the bullet and designed a solution as a side project for my development team to work on, which they did for about four months, and then just released it recently."
Remember this drone footage from Broken Head, released not too long ago? Haunting…
When you download the app, in order for it to all work, you have to allow it to push reports based on your GPS location, or via nominating certain areas. If you see a shark, you can submit a report from within the app as well. "All you have to do is click on the Submit button and fill out the details of your sighting, including shark details, time, distance from store as well as any photos and the location of the sighting.
"That then gets submitted to our team, and we quickly review each sighting, edit it if we need to, or contact the person submitting the report if we need more information. Once approved, this then gets pushed out to all mediums including the apps, website, Facebook and Twitter."
At the moment the system is limited to Australia, but it has potential for expansion. "The challenge is really finding the right partners to be able to manage the system 24/7. We can do that fine with Australia, but once you start going into other territories such as the US, you really need to have the local support to verify the sightings, update the content etc."
We asked if there have been any success stories since their recent launch.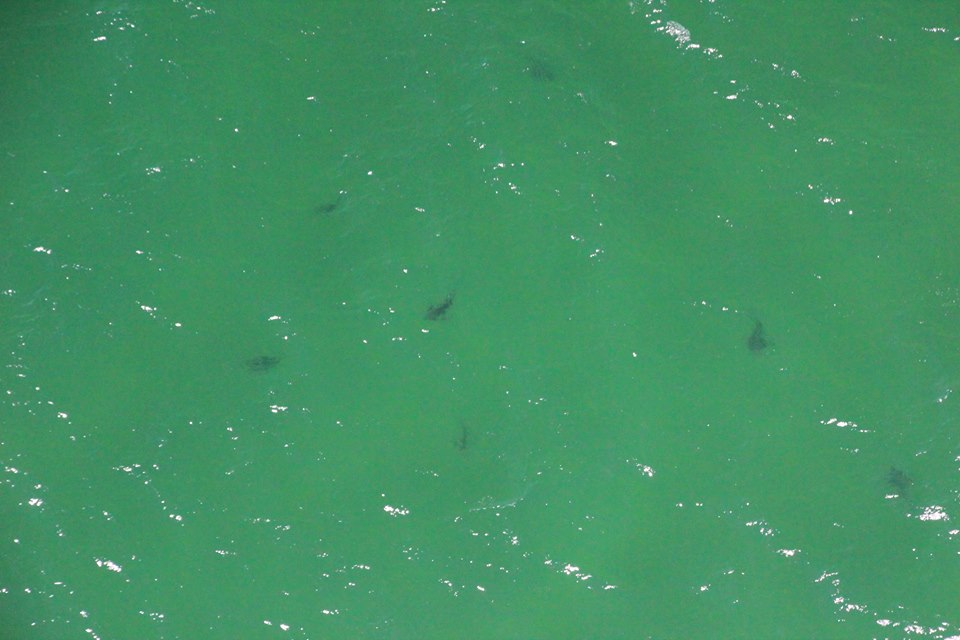 This was an image that the T&G Helicopter Service released not too long ago. Byron Bay.
"Yeah we have actually. There have been a few sightings in Adelaide recently and we had a lady who was about to get in the water to go ocean swimming with her daughter before she got our alert. This actually happened twice to the same person on two separate occasions, so she is very thankful for the system.
"We also had some feedback from our one of our partners, Shark Spotters, who reposted our alert on their Facebook page of a Bull Shark in Ballina five hours before Sam was attacked earlier this month. Shark Spotters had a mum thank him for the report, as her son had said earlier in the day that he was going to surf that exact spot before she saw the report. Subsequently he went elsewhere.
"We started this project thinking that it had the potential to save lives and that was our real measure of success, so its good to see some positive stories like those come though.
"Obviously nothing is foolproof, but we think this plays a nice niche role in a broader shark management strategy."
Going back to the government's current solution of helicopter spotters, it seems like a logical step for them to partner with apps like Dorsal. But apparently, they haven't showed any interest. "Haha, we have tried on many occasions to discuss with the governments across the country with little to no effect. I don't know why they wont talk to us. We offered it to them for free, it works end to end, allows them to have their own login for monitoring and broadcasting as well as the widest and fasted distribution of sightings. We even offered to white label it for them, but we still haven't had a response. I would have thought it was a quick win in time for summer, but I guess we move on and just continue working on bringing in new technology and expansion of the system."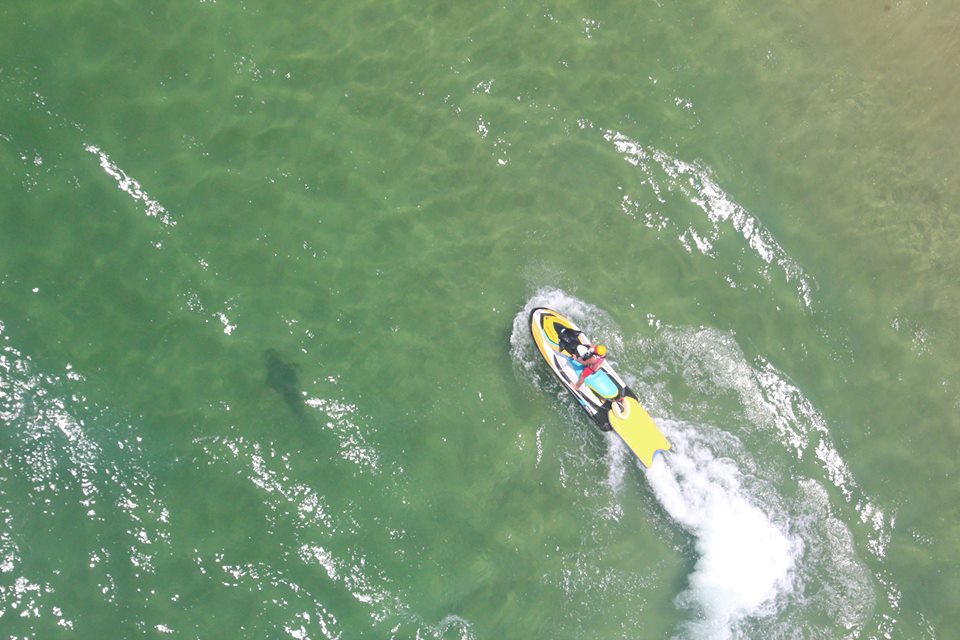 This photo was taken on November 20th of this year, once again by the T&G Helicopter Service.
There has been recent speculation that the government has been covering up shark sightings by the helicopter services, in order to keep tourism on the up-and-up. It's reported that there will only be a public notification if a shark attack is imminent (ie a Great White is in the lineup, not 100 kilometres out to sea). We can't say for sure, but this lack of acceptance for such a useful (and free) application could be an indication that this speculation is fact. Which frankly, sucks.
Dorsal is currently working on a new national program to bring the major social media pages together, as well as a new SMS service for those who don't use social media or phone apps. They're also working with a drone company, as well as talking to a partner about potential development of a waterproof smartwatch, that will enable users in the water to be kept informed on sharks in the area.
"It's actually pretty amazing how quickly this whole thing has escalated so quickly. Originally I saw a niche opportunity to help out and provide assistance to what is a very complex and emotional problem. Now, in the space of a few months, we are talking hiring employees, drones, smartwatch, tagging and sonar data and what was a little side project is now growing into something much bigger. As I said, we are not the magic bullet, but I think we can potentially make a small difference and that's what is most important."