Words: Charlie Peel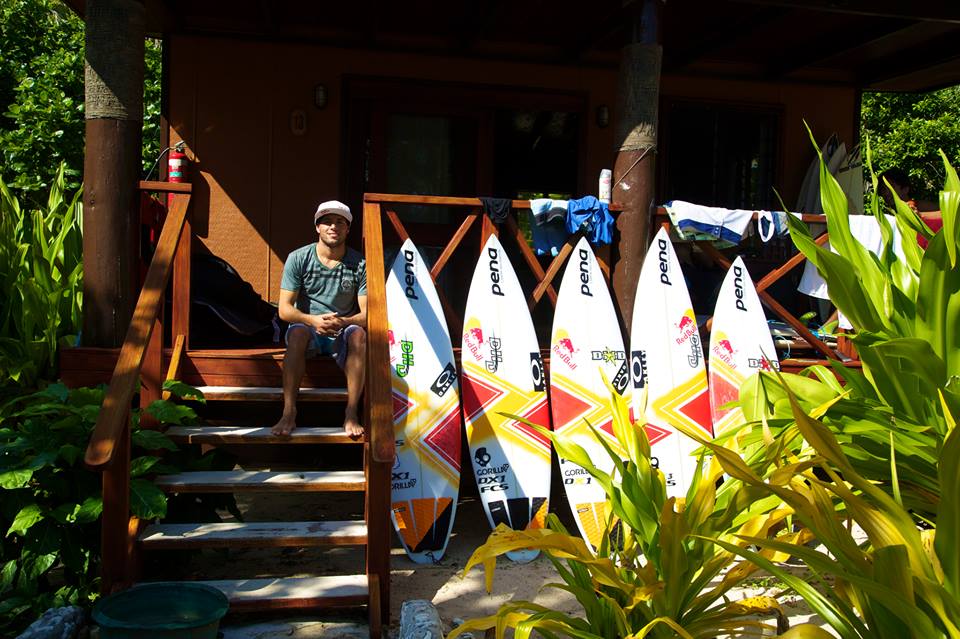 When ASP WCT Manager, Renato Hickel, sent out an email to the Top 34 last week, he made sure that the excuses made during last years' epic swell event at Cloudbreak, couldn't be made again.
Hickel specifically urged the pros to ensure that they pack the right gear to take on the heavier slabs, should the swell deliver for a second year in a row.
"I'm sure most of you are getting ready and prepared, but I still want to send you guys this reminder to come prepared to surf large waves… So plan to bring the equipment you would want, surfboards and/or flotation vests if you want/need them," he said.
With the knowledge that the Volcom Fiji Pro 2013 (June 2nd – 14th) will be proceeding, big swell or not, most of the contestants have made sure that they are well equipped to take on whatever the conditions throw at them.
Not everyone's come prepared though. Darren Handley told Surfing Life that Adriano De Souza arrived in Sydney just a couple of days before heading over to Fiji for the contest, sans big wave board. The Brazilian, who currently sits in number one position on tour, called his shaper to say that he didn't have any bigger boards ready to take on Cloudbreak, should the competition be staged there. Darren mustered together what boards he could and sent someone down to Sydney to meet Adriano with a couple of pin-tail guns, before the Brazilian boarded his flight to Fiji. Scary stuff from the top ranked surfer in the world.
Surfers are notoriously fussy about even the tiniest specs on their craft – but in an event where a slip up can spell the end of ya' tour and the technical competitiveness of the moves being pulled, it is definitely important for a surfer to have a close relationship with their shaper so that they can get exactly what they want out of their boards.
Surfing Life caught up with a few of the Australian based shapers, to see what their WCT surfers have taken along to Fiji this year to deal with all possible conditions.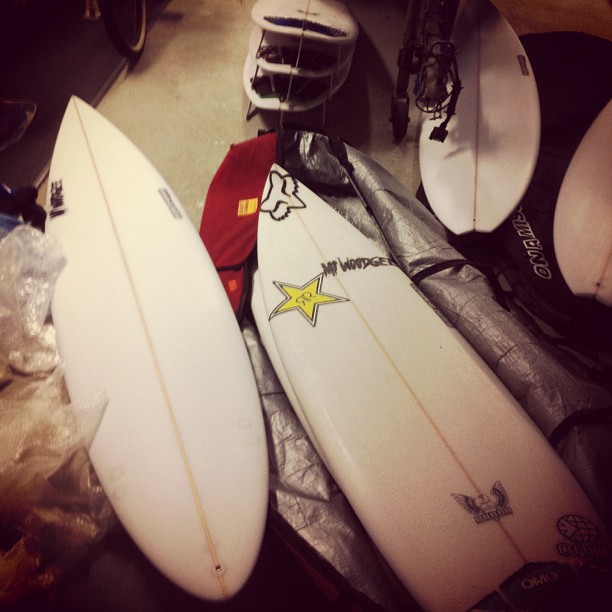 Wayne McKewen, Mt Woodgee – Bede Durgidge
Bede took to Twitter last week, predictably packing a tonne of boards so that he doesn't come unstuck. "Packing for Fiji. Chucking every size craft I just about own in my board bags. Just incase [sic] it's like last year," he Tweeted.
"Last year when it was big, Bede got caught out without any big guns to surf, so this year he's got a 7'2'' and 7'3'' in his quiver. Both pintails, in case there are any bigger days," says Bede's Mt Woodgee shaper, Wayne McKewen.
To ensure that he is not underequipped this year in Fiji, Bede has taken around 10 surfboards along with him in his quiver.
"He's also got a 6'4'' and 6'5'', both swallowtails, to use in surf that's around six foot or so. Then for just your normal surf he's got three 6'1''s with rounded square tails. And just a couple of step up 6'3''s as well."
Asked if Durbo has changed much in what he's asking for in his board design, Wayne let us in the latest touches that have been made to The White Fijian's boards.
"Bede's going for thinner tails and a thin nose, but still with a bit of foam under the chest to help him get over the lip a bit. The big characteristic though is that his boards have a good bit of volume but are fine through the tail area. And they're all concave. The shortboards in particular, have a deep double concave."
"Fiji's got that long running turn and it's a real ocean wave with a long face, so too much thickness in the tail will just trip you up. The fine tails will help him stay nice and low in the barrel too."
Boards with more volume have been what Bede has traditionally used, although he went away from this last year and tried to shrink things up based on the sort of boards Parko and Mick were using.
Now though he's done a complete turnaround and is again favouring the increased volume.
"Bede's gone from using boards with more volume a couple of years ago, to thinner boards last year, but now he's gone back to more volume. The boards just got too fine for him. Bede likes the boards so that when he pushes against it, it will push back on him a bit."
It's not just the boards that have changed, with Bede relenting and swapping his usual glassed on fins, for the travel friendly FCS system.
"He thinks the system is better than what it used to be," says Wayne.
"The removable fins make it much easier for travelling too, which he obviously does a lot of. It's funny though that he's finally gone on to the removable system because he was the only one, or one of the only guys on the tour still using glassed on fins."
Like most surfers, Bede recognises that some of the boards have that real spark that makes them more responsive and gel better with what the surfer wants.
Wayne says that Bede has one such board amongst his current quiver.
"He really likes one of the 6'1'' rounded squares (6'1'' x 18' 5/8'' x 2' 3/8''). He's saying it's the best board he's had for a couple of years."
Woody, Emery – Adam Melling
Assistant to Byron Bay-based shaper, Al Emery, Woody gave us the scoop on what team rider, Adam Melling is taking with him over to the Volcom Pro.
After a slow start to 2013, Adam is looking to get a good result over in Fiji and has taken a swag of boards along with him including: three 5'10 ½''s, 6'0'', two 6'1''s, 6'2'', 6'3'', 6'4'', 6'5'', 6'6'', 7'2''.
That exhaustive list shows just how unsure everyone is of the swell, and the steps the surfers and their shapers are taking in order to be prepared for whatever Restaurants or Cloudbreak has to offer.
Apart from quad fins on the 6'1'' and 6'3'' boards, the rest are thrusters equipped with Future fins.
"The shorties are the ones he rode over in Brazil, they're your typical sort of shorties, all with squashed tails," says Woody.
"He's also taken along a mixture of guns in case it gets big like last year. It doesn't look at this stage like it'll be too big or anything in the first week, but he'll be set just in case. Some of the guns are Emery, the others are Jailbirds. The Emory's have more of a pin tail while the Jailbirds are a bit softer."
"I'm sure everyone's in the same boat and they've picked so many different types of boards."
Woody tells us that Melling's bigger guns have been made a bit tougher in order to cope with a hammering from what's looking like could develop into a pretty solid swell.
"The shorties are just regular glassed but we made the big ones heavier. It's a bit of a combo between six-ounces and four-ounces of glass on the deck and four-ounces on the bottom," says Woody, assuring that the thicker glass should handle the conditions.
"Mellzy's confident in his boards. He's had a chance to use them over the last little while and he's got a good combo worked out from what he's used between Hawaii, Chopes and Cloudbreak. The 6'6'' and the 6'4'' are both boards he liked at Sunset. He's had a run on all of them, so he knows what they can do when it gets to a decent height."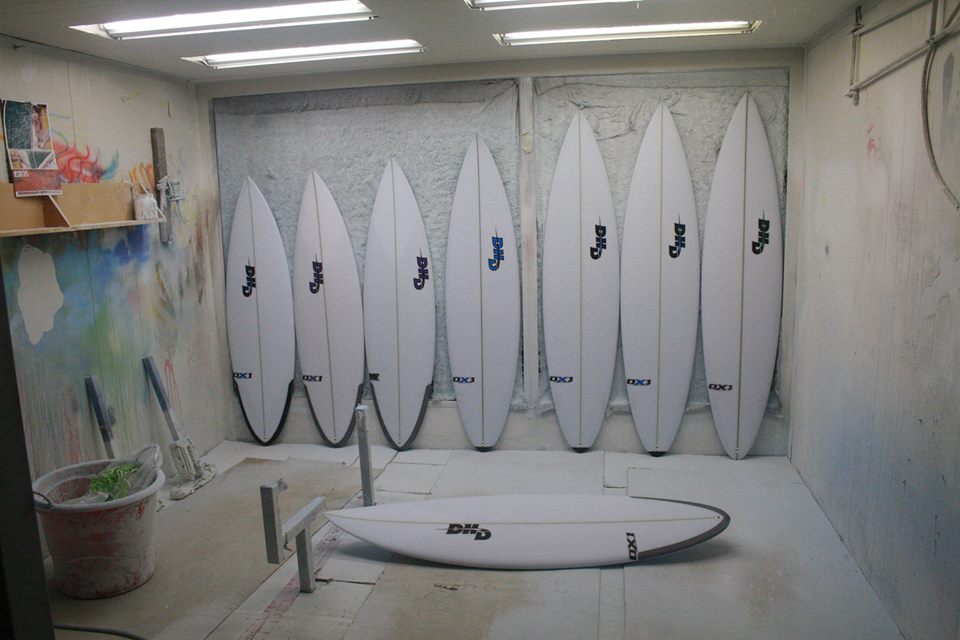 Darren Handley, DHD – Mick Fanning, Kieren Perrow, Glen Hall
Mr DHD himself, Darren Handley, is responsible for the boards for a number of blokes on the WCT including Adriano De Souza and Alejo Muniz, and three Aussies – Mick Fanning, Kieren Perrow and Glen 'Micro' Hall.
"Mick, Kieren and Glen all asked for a bigger board this year, obviously because of what happened last year over at Fiji. They've got a few left over from Hawaii so they'll be taking them along with them," says Darren, singing in tune with the rest of the guys, knowing that if things get heavy this year, Cloudbreak will still be surfed.
Darren's built up esteem with his surfers and knows how to add the touches they're after in their new boards.
"All the work on these guys' boards has been done over the years and anything new is only slight," Darren says.
"For example Mick's asked for a couple of slight changes, just for Fiji, where he wants a bit more volume up front so that it sits forward in the barrel in six foot conditions. It's a general thing now, for them to have a board that's an inch or a couple of inches shorter, riding in the same size waves, so that's why they need more volume in the boards."
According to Darren, there's probably no-one who needs the more volume in the board, more than Kieren Perrow.
"Kieren will charge anything, even on a 5'11'', so for him especially it's good to have more volume in it."
KP is looking to hook in to whatever Fiji has to throw at him and has taken along the boards to suit.
"Kieren has a 7'4'' for the bigger stuff, as well as a heap of others including a 6'3''and 5'10'' with a real sweet spot that he could use as a step-up at restaurants. Then there's a 6'8'' and a bunch of 5'11''s and 6'0'' five fin, pin tails," Darren tell us.
Glen 'Micro' Hall has his own swathe of boards with him as well, all of which have been designed for his smaller build.
Micro's got his Fijian and Tahitian quiver sorted with a range of three fin boards starting at 5'8'' and going all the way through to a 7'0'' gun for the bigger stuff.
The relationship that Darren has with the pros riding his craft is notorious – none more so than his extremely technical bond with Mick.
"Mick's gone for a lot less nose rocker in a couple of his boards, as well as that extra volume up front," says Darren.
"And everything's got the five fin set up on it so he can choose between quad and thruster depending on what he wants."
White lightning has taken over a similar quiver to the rest of the blokes, but in larger quantities with a total of 17 boards, some of which are left over from Fiji last year, where he placed third.
"He's got 6'0''s, 6'1''s, 6'2''s, 6'3''s, 6'8''s, a 6'10, 7'0'' and a 7'2''. He had a 7'4'' but he's broken that already in the practice."
That's ominous news for anyone keeping an eye on what the swell will deliver for Fiji.
To watch the boys in action, testing the refined touches on the boards mentioned above, head over to www.volcomfijipro.com and watch the event live or catch up on the replays.