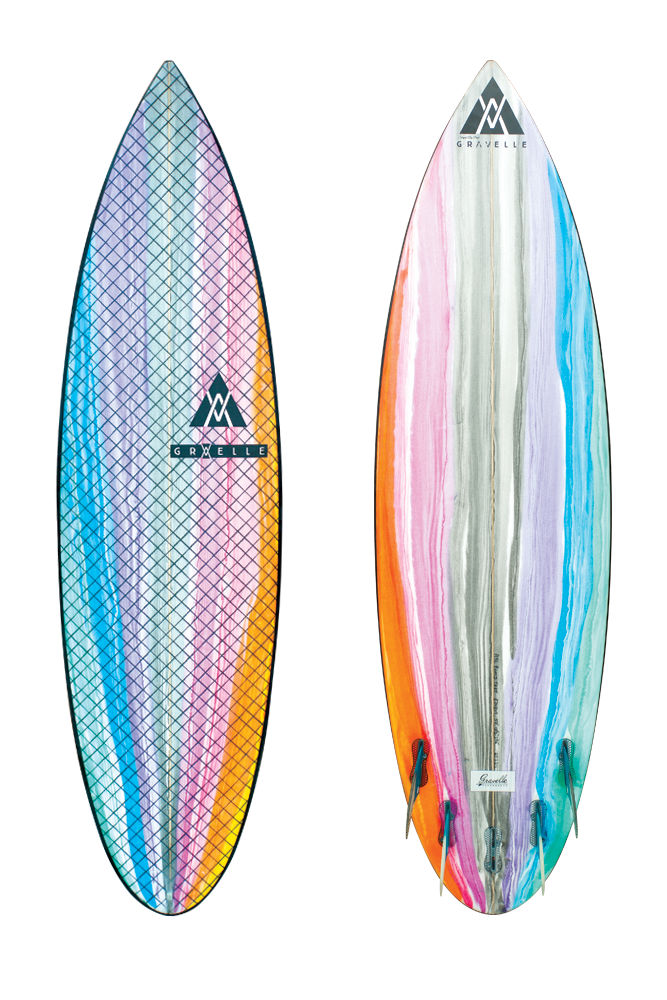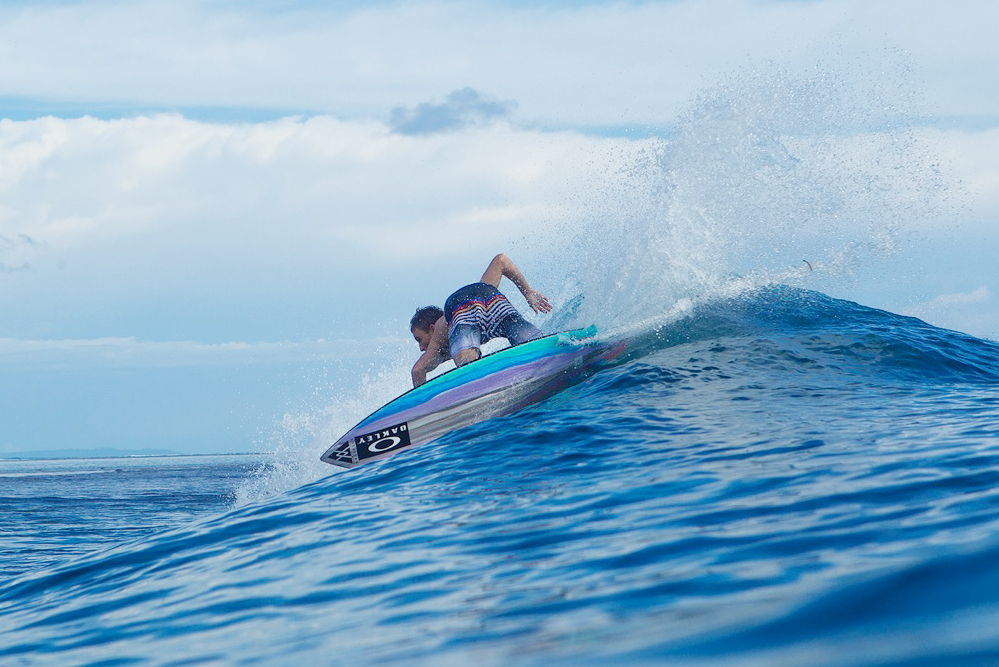 GRAVELLE – THE RENEGADE
5'9" x 18 1/4" x 2 1/4" 25.46L
Shaped By PAUL GRAVELLE
This design, the Renegade (Travel ) is a high-performance quad shape with a thruster option. It will perform at its best in quality waves but still work in junk if necessary. Its speed drive and high line control is a major asset that still accommodates release off the top and tight whippy arcs on cutties. The signature Gravelle bottom configuration of rocker line single concave to vee with inset Grav-Con and complimentary rail shape is what facilitates this performance. The construction with Quad-Axial Carbon deck makes it a lightweight yet durable surfboard. If you are looking for a one-board travel quiver or just a good all-rounder this shape is worth considering.
Tested By Sheldon Simkus
This board is real close to the dimensions I ride at home, maybe a fraction thicker. It's an easy and forgiving board to ride. I rode it in some mushy lefts and given the conditions, the board went surprisingly well. With the quad setup I had a lot of fun. There's so much drive in the board. The flatter rocker and chunky rails gave it so much down the line speed – a super-fast board.
What really surprised me, howevs, was the positions I could put the board into. I didn't think it was possible on a quad! You get it up in the lip and it loved the barrel. Who can complain about that, right?
In my other boards I much prefer thrusters. The pivot off the back fin means I can turn the board how I want, when I want. I find quads are better when the waves are sucky and barrelling. That down the line speed is incomparable. So the fact a thruster would have suited the conditions today, but this quad ruled anyway, makes the Renegade a really good board.
I surfed it on a left and there were a fair few other guys out there from other camps. I wasn't sure how the board was going or what it looked like under my feet, because it's the first time in a while I haven't surfed my own boards. But all the other surfers were paddling up to me and asking me for a look at it.
They were super stoked on how it went and especially the design. That was unexpected because I'd never actually met any of these people before and yet, here they were, paddling around, talking to me, wanting to inspect the board. A very good sign.
---
Our two cents...