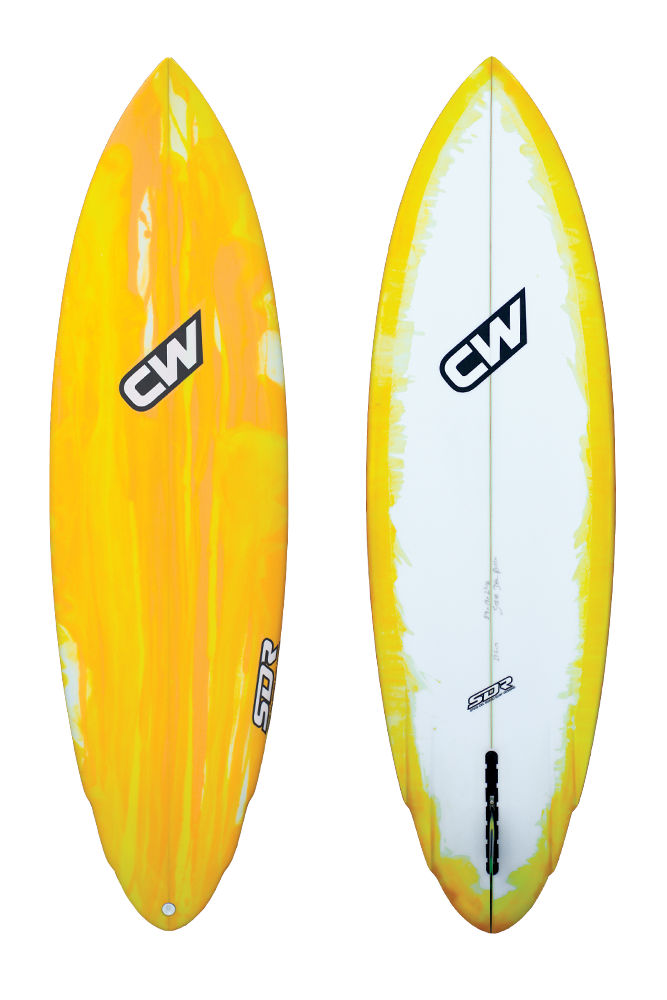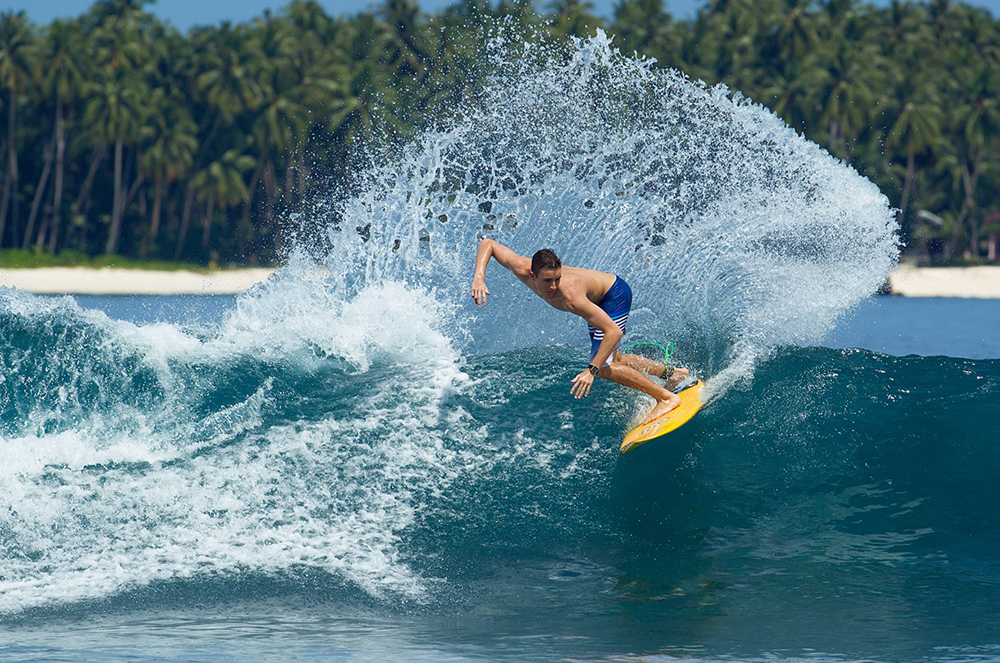 CLEARWATER – HYLAND SINGLE
5'9" x 19" x 2 3/8" 27.5L
Shaped By Steve Del Rosso
This is the Hyland single fin, named after Tim Hyland who won two Burleigh single fin classics and was influential in this design. This model combines old school single fin principles with modern design features to create a board that works in all conditions. It feels like a thruster but looks like a classic single. The two key design features that make this a great modern single fin are: two deep channels on each side which run into flyers or well-defined wings.
The deep channels create drive and hold on the rail and the flyer provides a distinct break in the rail line, or pivot point, allowing the board to turn a lot tighter than traditional single fins. Unlike the old school singles where the thickest part of the board was under the chest, the thickness distribution of the modern Single is fairly even. Traditional single fin boards tended to be great in bigger waves, but not very reliable as allrounders. The even distribution of the modern Single helps deliver versatility in all conditions, especially the smaller grovelly stuff. I grew up on single fins so have been fortunate to combine this experience with modern shaping techniques for high-performance thrusters to produce a single fin that looks traditional but feels modern.
Tested By Sheldon Simkus
I surfed this board on a solid, but fat, righthander. I also surfed it on a crummy two-foot left.
The board went really well on the left. I found it hard to turn at the start of the session and I couldn't quite work it out. Then I shuffled my foot back further on the tailpad and then it started going really well. It was really fast. I found that I could lean forward and get my speed right up or I could put my foot further back and I could jam it in real tight. The wide point feels like it's around my front foot so it's mega easy to paddle. The waves weren't that powerful where we were surfing. But the board was fast and it kept going. I coulda gone all the way to the beach if I wanted to.
I put the fin way back, which made it easy to turn. It's only a 6.25" fin, so it's not big, but perfect for the board.
A single fin compared to a thruster is obviously completely different. The thruster is easier to manoeuvre. The single is a little more stiff. But it has so much drive. It was really cool to ride a board like this. I've ridden a 1980's single before, but this one was way more responsive. A high-performance single fin? Yeah, it is.
---
Our two cents...