Digitales – @surfcore2001
Just as National Geographic records our Planet's environmental, cultural and scientific history, one man has made it his mission to document and educate the surfing world on the most core era of surfing existence.
The Instagram account @Surfcore2001, is ground zero for all your late 90s/early 2000s pro surfing needs. In other words, the one Instagram account you never knew you needed, until now.
Poring over mountains of old magazines – of which, Surfing Life takes up a substantial chunk. Surfcore2001 is archiving the best of the best core surfing content for your viewing pleasure.
Think; Aussie power surfing and drinking at its most brutal; forgotten QS battlers receiving the accolades they haven't bathed in for years and it's all tied together with classic Aussie surfer #realtalk.
The flames, barbed-wire and tribal era is saved in digital form forever. Double-tap, Like!
We meet up with Surfcore over some ice cold frothies and wedges (not ironically, loaded with sweet chilli and sour cream) to catch up on all things core.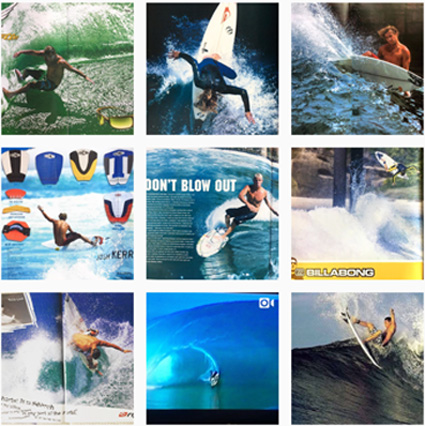 You're singlehandedly keeping the flame alive for Aussie surfing's most golden era. What's so good about pro surfing circa Y2K?
Everything. Probably one the most piss-fit eras of ASP tour. Half the tour was Aussie, Taj and the Cooly kids are rookie slaying their way across continents and Andy and Kelly and are about to 'sort-it-out' footy club, carpark style.
Off tour, Bruce is giving Noa and Creed their first stiffys and Doped Youth is getting quoted every lunch and recess at school. Surf movies came out on VHS, they had wipeout sections and a minimum of two At-The Drive-In amp up tracks.
But I'm not in this alone. There will be a renaissance of the core!!
Shoutout to @surfads as well, the mysto veteran, sitting way deeper and getting all the bombs. He drags up some names that are only heard on whispering winds of Sumatran atolls. Me? I'm just trying to compliment that with some Y2K icons and get nostalgic with the back-zipped, sun scorched, round-tail battlers.
For the uninitiated, who were the corest of the core from that era? Take the grommies back to school.
Well, it's a three-way tie.
Lowey – True-blue-ridgey-didge-dinki-di-raw-dingo AUSSIE BATTLER.
Port Kembla's uncrowned king. Whether it's macking Black Rock or 24 Toohey's Extra Drys, Mick Lowe shows no fear towards COLD SLABS!! Big Rig, built for the front-row, but tackles south coast bombies instead.
2004 Quik Pro, Never forget!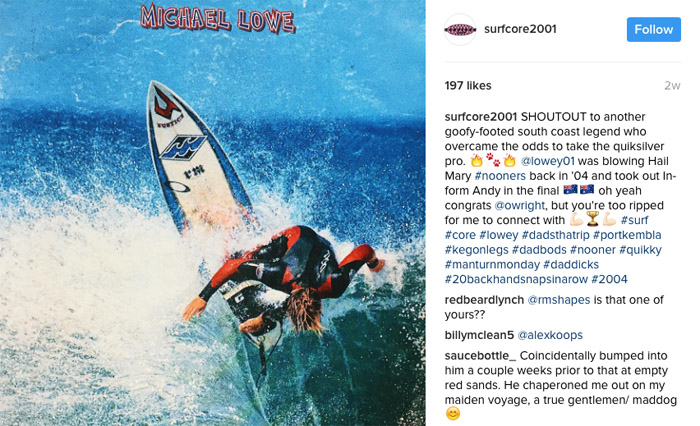 Knackers – 100% Trent Munro is the molten iron core of the core. If Knackers quit surfing, the earth would probably spin off the sun's orbit and the society would go Mad Max: Beyond Thunderdome within a fortnight.
A NSW rural legend with a backhand NOONER that should give any mortal man a semi-erection!
Margo – Style Icon. The blue-collar free surfer. Below-the-lip technician with serious man-torque. I give myself an anal prolapse just explaining his power-turns. One watch of 'Wanderjahr' or 'Pulse' and you'll be four-pages deep on gumtree trying to find a 6'7" Maurice Cole rounded pin.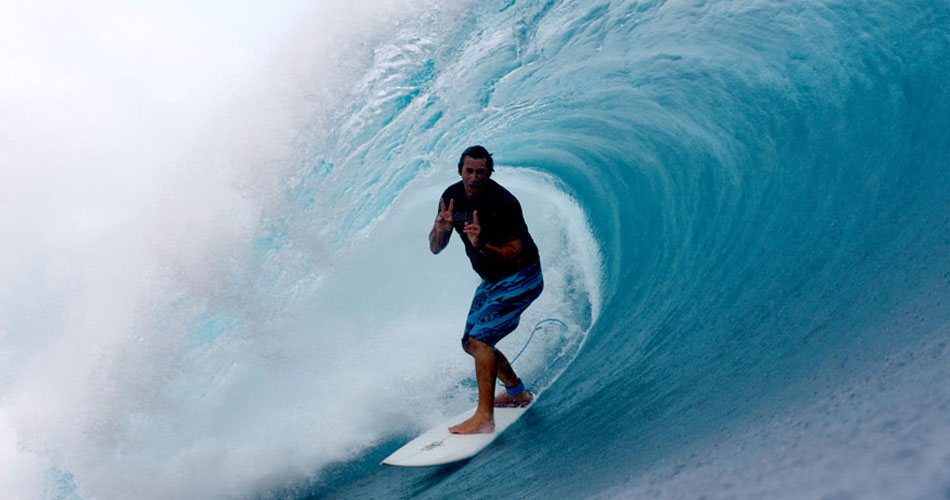 Surf fashion is pretty overrun with limp hipsterism nowadays, short shorts and resin tints are clogging the lineups everywhere. Your thoughts?
KIDS! DONT WORRY! I WAS LIKE YOU ONCE! IT GETS BETTER!
Sitting wide, on my single fin, smirking at these 'normies' on their 'machine-made conforma-boards' in their 'mainstream surf apparel'.
HA…LOSERS!!
… well one of those guys sitting deeper than me was Phil McDonald. He caught the bomb of the day, laid his board on rail and baptised me with his holy spray. I WAS CURED. I paddled in and left my beavertail forever! My ego deflated quicker than my surf mat.
Surf anything. Everyone is welcome.
Just don't ever think you're better than Joe Blow on his 1998 Nev from cash converters. I don't think Macca loses sleep over what colour boardshorts he wears. I'm 99% Occy didn't paddle in after seeing you Hang Five and realise he's riding the wrong boards. Camel isn't worried about what's hot in Noosa this week when he's paddling into 12-foot Desert Point.
What are some long forgotten core surf brands you wish were still around today?
HOT TUNA – Shoutout to Taree/Old Bar! Underdog surf industry legends with some of the wildest campaigns. Guy in the 'Fluro Piranha' shirt and denim boardshorts, voted 'most likely to steal your girl' at Big Day Out 1998.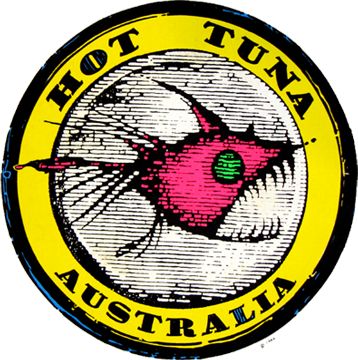 MORE CORE DIVISION – 'Gotcha' not reaching your barb-wire and tribal requirements? Time to take it up a notch with MCD. Probably the most staunch surf team to ever exist. Andy, Archy, Koby.
Iconic to the CORE!
CULT INDUSTRIES – Known for supporting the underdog. Okay sure, not the most timeless styles but mark my words, the Aussie flag boardshort and tribal singlets will return.
SMP belt buckles and visors are also overdue for a revival.
If you had a time machine and could bring back any surfer and drop them on tour in 2017, who would you choose and how do you reckon they'd go against John John and Gabby?
2003 Andy would still pry the crown out of double johns permed ringlets any day. Not afraid to throw a hail-mary floater on a 10 foot closeout or end on a pump-action shotgun claim.
Special mention to 2001 NUDES, WHITS, HEDGEY, HITCHO and HOWSE: They would get smoked every heat but they're crucial in facilitating nocturnal activities. Coupla arvo dad-juices with these legends may lead to a jaw-swinging, blood-shot 'adults only late night special edition of #tournotes'.
WSL – We Stay Lit.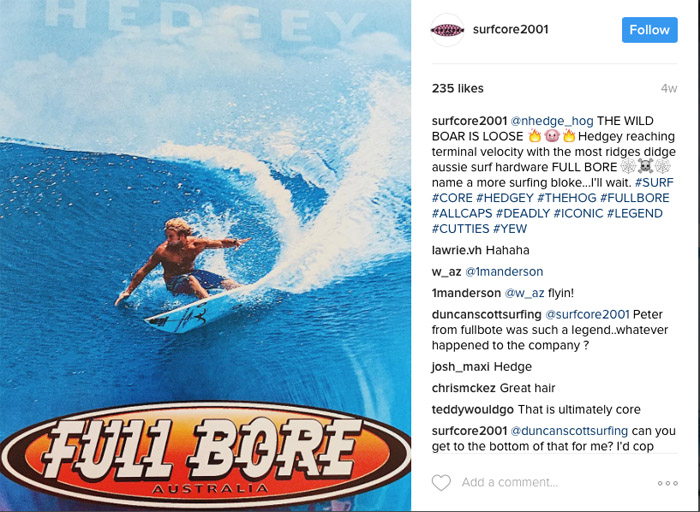 The Aussie goofyfooters like Owen and Wilko are lighting it up these days, does it make you happy that the classic Aussie backhand power game has made a comeback?
Yes! Bring back the NOONER!!! 12 o'clock is the best o'clock. The boys are too rake thin but! Like … do you know what's more impressive than an elite athlete doing a backhand belt?
A nuggety dad-bod forcing his way through a raging NOONER, THATS WHAT!!!
You've got a ton of high-profile core legends following you on Instagram, who are your most prized acquisitions?
Yeah there's tonnes, heaps of the guys I've mentioned have jumped on board. I'm so stoked the current generation are getting nostalgic on y2k vibes too. But, I'm not one to name drop.
But as it should be, the corest surf legends aren't on social media. There's no 4G network on the mysto outer bombies, no internet cafe on the Indonesian atoll they're camping on.
Just them, a 6'6" channel bottom and a Gath™ helmet for when it gets deadly!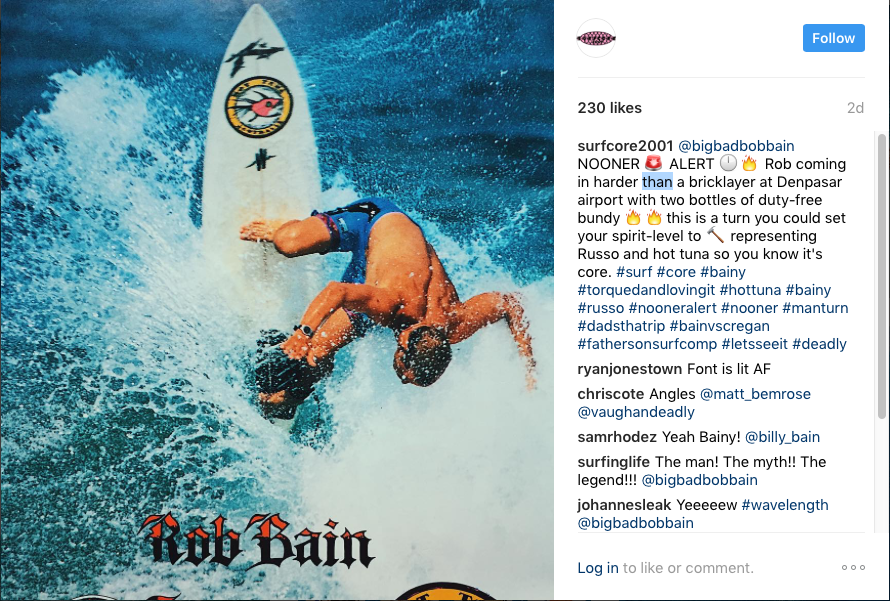 by Lawrie Vonhoff
Find more core surfing here: https://www.instagram.com/surfcore2001/