Words: Casey Butler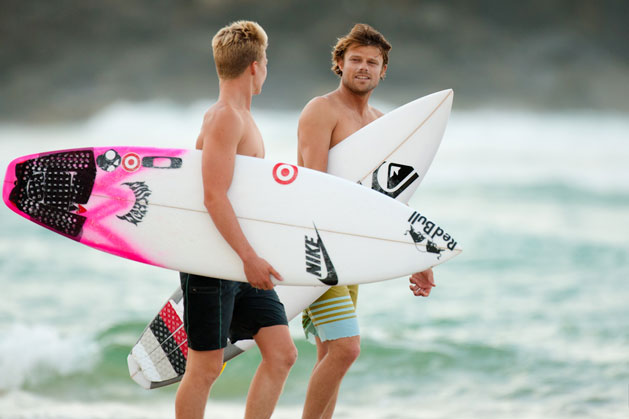 Target's, and formerly-Nike's, Kolohe Andino compares board stickers with Quiksilver's Dane Reynolds. Photo: Jarrason Bitton.
So, here we are with the pro surfing world in strife. Billabong's shares are at rock bottom as two sets of buyers have reneged on a purchase, Rip Curl is looking for offers, Nike has pulled out of surfing, and the 2013 World Championship Tour schedule is looking more Swiss cheese-like than ever. Oh, and the ASP quietly sold off the WCT to a little-known Hollywood media company. And don't get us started about the women's World Tour.
The big surf brands cannot afford to continue to prop up the World Tours for much longer. Surely we're not the only one who's considered whether the support of a mainstream brand, or six, would benefit our sport? But can mainstream brands succeed in the world of surfing?
Nike was once an outsider. They always knew athletics, of course, but they didn't always know surfing. Founded in the '60s, tweaked in the '70s, the brand entered the surf arena about 10 years ago. Since then, they amassed one of the most formidable teams and some of the most spectacular events in the industry. Granted, they've also just handballed the whole surf program to Hurley and stepped away from surfing completely – but the point is, they did manage to get a strong foothold into a fickle industry by sponsoring big-name surfers and big-name events.
[youtube]hU8QF5gogPA[/youtube]
Laura Enever was one of the faces in Nike Training Club mainstream fitness campaign.
When American mass market retailer Target first signed Carissa Moore and Kolohe Andino, the surf community collectively uttered, "What the?" Target is not a surf brand. They certainly do not embody the subversive, reckless – if enterprising – mentality with which surfing's identity is entwined. However, they too have assimilated.
"Because we took our time – and we really took a lot of it – people had a chance to get to know Target and the people representing the brand, instead of just seeing logos up at events and on boards, which limited the resistance," says Target USA's Lifestyle Marketing Manager Devin O'Brien. "We approach surfing with a great deal of respect for the athletes and brands that have made it into what it is today."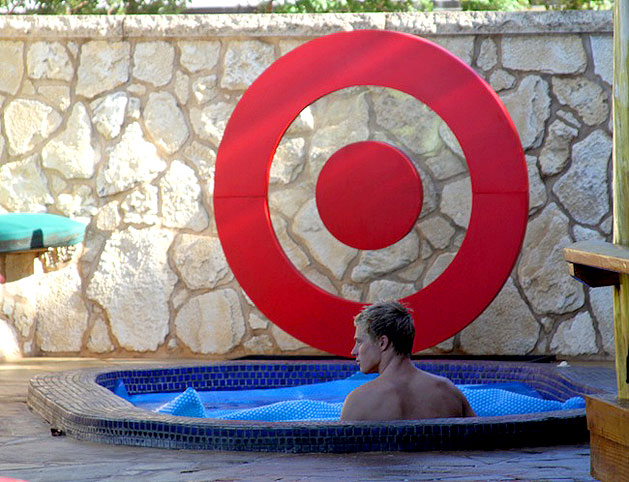 Target have set Kolohe Andino up at a house overlooking Pipeline, complete with a red bullseye spa. "After my heat, I take a Jacuzzi to decompress. Target takes the best care of me!" Kolohe says on Target's "A Bullseye View".
In 2009, Target was pulling in $65 billion. A year. Kolohe and Carissa are now two of the richest surfers in the world, and Target made $69.9 billion last year. Quik made $1.95 billion. And that was a good year. This is not to disparage Quik's earnings, because naturally, surf brands are smaller, but they also spend mountains of cash. A brand like Tarjée would seemingly have no problem forking over $3 million for a World Tour event. Which is something they've considered doing, when the time is right.
"Just like we took our time with athletes, we are looking at many events. In time, if there is something that is the right fit for Target and our athletes, we'd seriously look at investing. But, it will not be a one time, one-off event," O'Brien says.
"We were definitely not happy to see the Women's Triple Crown fall off of the calendar and we want to support women's surfing. We've been looking at opportunities, talking with other brands and, hopefully in the future, we could be part of a world class women's event," he adds.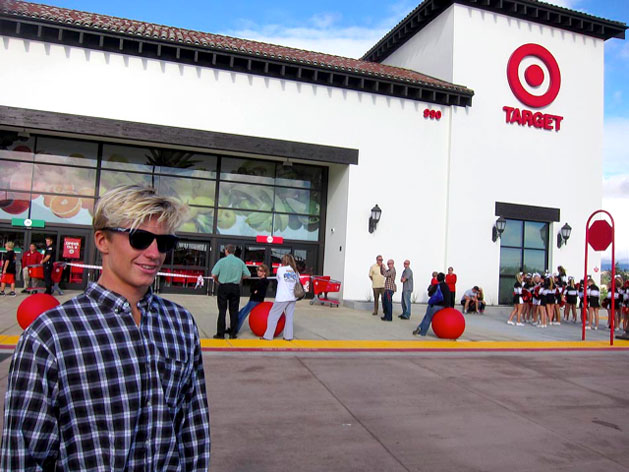 Target even got Kolohe Andino to officially cut the ribbon to open up a new Orange County store, complete with a phalanx of high school cheer leaders and the San Clemente Mayor. Only in America, eh? Photo: Chris Cote/Transworld Surf.
Theoretically, resource-rich newcomers can maintain, and even enhance, World Tour events. Last year, the women's WCT in Taranaki, New Zealand nearly vanished because of financial woes. But the community, both surf and otherwise, rallied to ensure it survived. The 2012 Beachley Classic in Dee Why had the richest prize purse of all of the women's events: $130,000. Its top sponsor was Commonwealth Bank.
Brands like Land Rover and Ford have already lent considerable support to the WCT. What if a big Aussie company like Woolworth's decided to throw some bucks surfing's way? Theoretically, we could have a really robust Tour schedule … but would you feel as excited about the Woolworths Pro at Snapper Rocks? Would a Woolies WCT event suck the soul out of surfing? This question presupposes that you still believe that competitive surfing's soul remains intact.
[youtube]OPZp7SWhvkI[/youtube]
Big camera brand Nikon not only sponsors Steph Gilmore, but also Surfing Australia. But photography and surfing are a natural fit.
Matt Wilkinson believes that mainstream brands that venture into the surf world actually help their surf-centric brethren, as opposed to eclipsing them.
"I think it's great," Wilko says. "It not only brings more money to the surfers, but it widens the advertisement that the core surf brands get. I feel like surfing is in fashion at the moment, and even though it's such a tough time for the surf brands, I think that with this, they will come out of the crisis and really benefit from it."
But the question must be asked: when surfing goes mainstream, will it still be as irreverently cool? Will you still feel the same passion about "your" favourite brands and their surfers? Or will it be too much like, god forbid, tennis?
On that note, BRW Magazine just released it's top 50 sports earners list for 2012. Mick Fanning is the top ranked surfer at 23rd place and $2.2 million in earnings, followed by Taj Burrow in 28th with $2 million and Joel Parkinson in 32nd spot with $2 million. Australia's top sports earner for 2012 was NBA basketballer Andrew Bogut with $13.5 million. The highest ranked tennis player was Sam Stosur with $2.5 million for 20th spot on the list.