Interview: Mimi La Montagne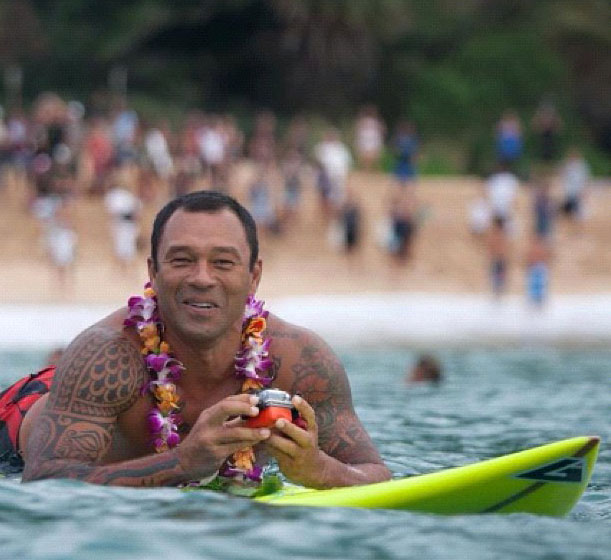 Smiling Sunny at the Eddie paddle out ceremony last week. Photo" @sunnygarcia
The circus is once again rolling in to the North Shore on its annual pursuit of waves and dreams. The race for the World Title has come down to the final event, the Billabong Pipeline Masters, making this December in Hawaii more prominent than ever. Tempers are flaring, competition is fierce, and while the waves are yet to really deliver the forecast is looking ominous. Following his victory at the HIC Pro at Sunset, Surfing Life sat down to chat with Hawaiian legend, 2000 world champ, and six-time Triple Crown winner Sunny Garcia to find out what we can look forward to.
Surfing Life: Sunny you just won the HIC Pro at Sunset, and in the process you qualified for this year's Triple Crown. You've won it six times before, are you hoping for number seven?
I'm not necessarily hoping, I'm just doing everything I can to try to make it a reality. I'm not under any preconceived notion that it's guaranteed. I'm older then most of the guys and the young kids are ripping. I'm hoping for some good waves and a little bit of luck then we'll see how it goes.
Do you still see yourself as a threat to all three contests?
Yes and no. I hate losing. That's pretty obvious from the Haleiwa event run-in with Freddy P, but I'm just enjoying the ride. I've had a long career and it's been really good. I've had some really high highs and some really low lows, I'm just happy to still be competing.
Tell us about your clash with Mr. Patacchia. Usually you two get along, what happened out there?
I beat him at Sunset the week before and he just kept saying, "I'm not fucking losing, I'm not fucking losing." He hassled me the whole heat. Of course it got heated, and what can you do. I'm not one to sit on people. I think if you sit on somebody you're pretty fucking weak. We had a few words after the heat, but I got in the shower and thought about it. The heat is over, it's done.
He's my good friend and I'll stick it to him, but within five minutes we hugged and I apologized. We took a photo and Instagrammed it. During the finals I sat and cheered for him. I would have been stoked if he won, but I am bummed that him making the final came at my expense. As bummed as I am I have to swallow my pride and be happy for Freddy that he did make it. Competition is competition.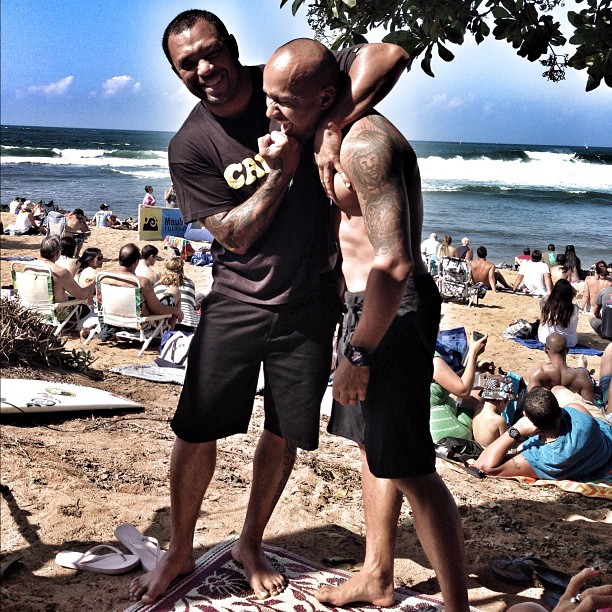 "What's life without a little Drama? lol. Love you
@freddyp808.

Win this thing!" Photo: @sunnygarcia.

When you were younger, could you have imagined still surfing at the age you are now?

If you asked me when I was 25, I would have said I'd be done by 30. I surfed against Mark Richards and Shaun Thompson, and I was watching the heroes before me retire at 30. The athletes take care of themselves better now, and I guess with less events and more money that helps too. There were 28 events a year when I was younger, as opposed to the 'CT now with 10 contests. There's not as much traveling, and guys can pick and choose between better waves. Careers are lasting longer.

Do you think that's good for professional surfing?

In a sense. I assume the public likes going and seeing people they know. That's what brings people out to the events. If we're continually changing athletes we'll lose a lot of interest, right? If people don't know who they like, they won't come out and cheer.

After all these years on the North Shore, are you used to the circus coming to town?

I've always been a part of Hawaii in the November, December time. Every pro surfer in the world is gonna be here either competing or trying to make a name for themselves, it's just part of the winter season. I'm not too bothered by crowds. The people that get bothered are the guys that aren't from here. They came here and they don't want to share with the rest of the world. The North Shore has all these people that aren't from here living here, and they're the ones that get upset.

Hawaii is a beautiful place and there are lots of waves for everybody to have a good time, it's part of the culture. Without the top guys coming the surfers coming out of Hawaii wouldn't be as good. It's all for pro surfing, the good, bad, and ugly. We have the best lifestyle of any sport in the world, and I love everything about it. I've lived a blessed life and wouldn't change it for anything in the world.

Do you still have goals left in your surfing career?

I wanted to be World Champ, and I did that. I'm at the point where I'm just enjoying surfing and that's the only thing that really matters for me. I'm not getting paid huge amounts of money. I've always loved it whether there's money or not. Surfing is my one true passion. I'm just going along and seeing where life takes me.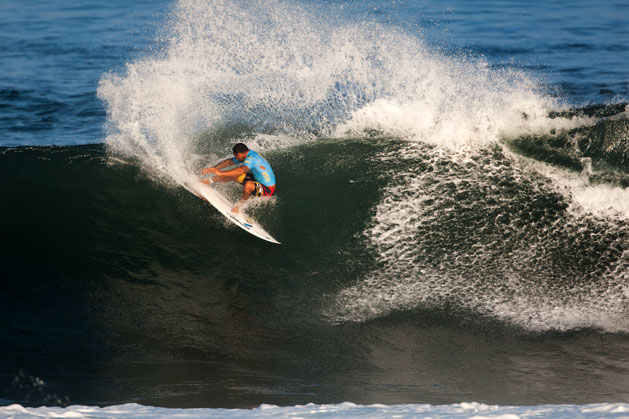 Sunny's still got it. A picture of power surfing out at Haleiwa where Sunny placed equal fifth in the main event and won the legends event of the 2012 Reef Hawaiian Pro. Photo: ASP/Cestari.
Have you been traveling much lately?
I haven't been traveling all that much. I'm picking and choosing events. I really want to get back to Oz to take care of the Burleigh problem.* I want to be able to come back to Australia, it's one of my favourite places, I used to call it my second home. If people ask where my favourite place to travel is, I always say Queensland.
Until this week Kelly was in Hawaii, while Mick and Joel were training at home in Australia. Do you see any similarities to 1998, with Mick Campbell and Danny Wills running the dunes in Oz while Kelly lay in wait on the North Shore?
There's only a certain amount of training that you can do for one particular thing without being there to train for it. You have to do good at Pipe. I'd be renting a house in front of Pipe and surfing it everyday, whether it's one-foot onshore or 10-foot and offshore. I'd have every kind of board. I remember talking to Wills and Campbell that year saying, "Come hang out, I'll take you out early and make sure you guys get waves." They showed up the day before the event. That's not in any way being prepared to do what you have to do. I'd be here.
Who's gonna win the Triple Crown?
It wouldn't be good for me to say anybody but myself. I do everything in my power to win, but having seen Haleiwa I think John John has been really good all year. He's taken such leaps and bounds in the last couple years. I want to say I'll win, but if I don't all my money is on John John. He is absolutely ripping.
Who's gonna win the World Title?
To bet against Kelly would be outright dumb. He's a good friend of mine and I love seeing him win, but he's already won 11 World Titles. I've never seen Joel do good at Pipe. I'll be cheering for Mick because he's the underdog, the one that's furthest away. Any one of those guys would be great to see win.
How do you feel about the race coming down to Hawaii?
It should always be this way, the last two events should always be in Hawaii. None of this show up in Brazil and win there stuff. I was happy to win mine, but it would have been so nice to win it in Hawaii. It would have been awesome if John John had done well enough and still had a shot.
You and Kelly are pretty good friends. Was your heat the other day at Haleiwa fun, or was he head down, Mr. Serious?
Kelly is always serious. It's never a fun heat with Kelly. He's such a competitor and he's always out there trying to do the best he can. When you have a heat with him you better bring you're a-game. I wasn't really happy with my performance.
Kelly's riding a 5'9'' at Pipe these days, what are you going to be riding if it's solid?
I don't know. A 7'2'' or a 7'6'' or a 7'10''? Kelly's a freak. Anybody trying to ride what he's riding is nuts.
How do you explain Kelly's longevity?
He's a perfectionist. He trains really hard and he's into good food and keeping himself very fit. He's probably the most competitive person I've ever met. With that much competitive spirit, drive and desire to be at the top for that long you can only imagine the things he does when no one is paying attention. He's been good at not sharing the behind the scenes stuff. He's been going to Crossfit with the boys and they've been saying the stuff he's been doing. It's pretty incredible knowing the things he can do. He's that fit. He's an incredible guy for being able to keep everything under wraps. He's letting his hair down more now. When you get to hang out with someone behind the scenes you know a lot more, and he's a lot fitter than I ever thought he was.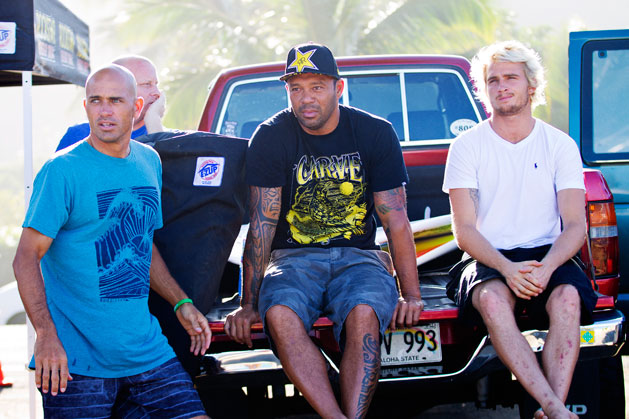 Just chilling on the back of a truck with Kelly at Sunset Beach. Photo: ASP/Kirstin.
Is the best training for surfing still surfing?
Of course. I train because it makes me feel good, and if I feel good I surf better because I know I'm fit and ready. Everything functions better. You might paddle a bit faster or longer from training, but it does something more mentally. You know you're ready and that feeling is way better.
I worked with Carissa the winter before she won World Title and the first question I asked her was "Where do you think you belong. Do you think you're the best surfer in the world, a top surfer, or what?" It took a while for her to answer. The year I won, I knew I was the best. It wasn't a cocky thing, just something I felt. Maybe it wasn't true, but I felt that way and it carried into my surfing. I always felt confident that I was the better surfer. You really have to believe it, and if you can't there's no way it'll happen. Kelly is the best surfer in the world because he believes it and lives and works for it. It's one of those things, you train and you feel good. Chain reaction.
What do you do for training?
Crossfit and running. I used to do a lot of biking but I haven't been going to spin for a while. My trainer just brought me a bike the other day and I went out and bought brand new shoes. I put music on and ride the bike. More than a workout it's getting peace of mind. You're by yourself, doing something different from surfing, and you're not worried about anything else. Every athlete should have that alone time. You always have people that need or want something from you, and you need to be able to get away. We're already crazy enough.
Talking about crazy, all the surfers are friends these days, everyone gets along. What has happened to the competitive spirit!
It's still there. When I was on tour everyone wanted to kill each other. I like the rivalries, I miss that part of surfing. With the Internet more guys are worried about it. I got hate mail on Twitter on that photo with Freddy, stuff like, "You're a big bully," "You wanted to kick Freddy in the face." If I wanted to kick Freddy in the face, I would have kicked Freddy in the face. It's competition and everyone talks shit. With social media I guess a lot of athletes can get hated on and get bummed so they try not to do anything wrong.
Has hate mail ever gotten to you?
The only time hate mail gets to me is when I wish I could climb through the computer, but the last couple years on Facebook and Twitter I finally got to the point where I think, why do I even give a fuck? This guy sits at home watching a fucking computer following what I do. I had a couple of really bad haters on Twitter and now they're my Twitter friends. Most fans don't know you, so they don't get two sides. Fight with kindness. The more time you spend with people the more they find out about you, and realize that all these athletes are just like everybody else.
We're real people with real feelings. The difference is we're doing what we want to do and getting paid for it. It's always easier to be on the other side and say how lucky we are, but I didn't just wake up one day and was suddenly a pro surfer. The first board my mum bought me was from the Good Will store. We lived inland and every day I walked five miles in my boardshorts with my board, no shoes and no food. You didn't walk in my shoes, you have no fucking idea the shit that I did.
Honestly, I'm just really grateful for everything that surfing has done for me, and is still doing for me. I'm just enjoying every moment of it. One day I might wake up and it'll be over, but for now I'm sure gonna enjoy it.
*Two years ago at the Breaka Burleigh Pro Sunny was in the middle of an altercation involving his son Stone, Jeremy Flores and Burleigh Heads local Adam Clark. Sunny is now facing charges when next he sets foot on Australian soil.