Interview: Jed Smith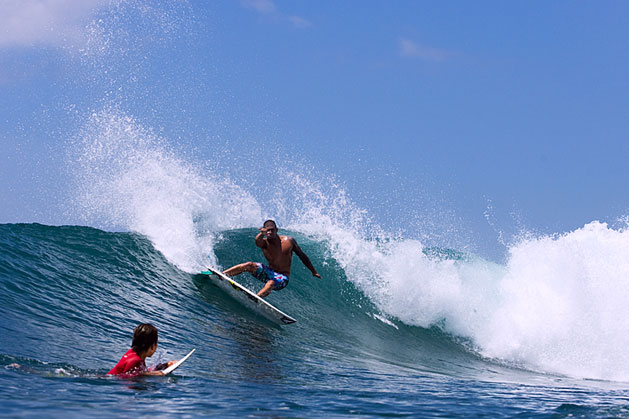 Zeke about to give a surfer at Keramas a faceful of Bali spray. Photo: Andrew Shield.

This interview first appeared in "Focus" in Surfing Life 289

Hawaii courses through the veins of 18-year-old budding superstar, Ezekiel Lau, or at least that's what his high school says. Zeke – as he's known – is a student at Kamehameha High School, one of several learning centers around the islands that cater purely to kids of native Hawaiian ancestry. Although still very young, it's seen Zeke take a very serious stance toward the continuation and preservation of Hawaiian surf culture. "When I get older for sure I want to come back and be able to give back to the kids in Hawaii and help all that new talent. I definitely wanna be a part of it," he says.
It was also here, on a sunny day in November 2010, that Zeke first learned of the death of one of Hawaii's modern heroes, Andy Irons. A.I. was an idol and friend of Zeke's, the two having shared a coach in Dave Riddle. The influence of both Andy and Dave is very evident in the mechanics of Zeke's surfing; big smooth arcs, stored up speed unleashed in furious gaffs, and a lofty aerial game. More recently, Zeke's competitive results have also begun to reflect that of a future champion. In the past two months, Zeke joined Andy on the winners' list of America's most prestigious junior series, the NSSA Nationals, at Huntington. He followed that up with a third in the star studded six-star Billabong Pro J-Bay, and then a win in a four-star event in Japan.
Zeke has got the frame, and the surfing, of someone who looks much older than his 18 years of age. Photo: Andrew Shield.
Above all that, Zeke rates recently winning the NSSA National trophy for Outstanding Performance, presented by the Irons Family, as his most cherished title. The loss of Andy was a monumental blow for both Zeke and Hawaiian surfing. When we caught up we sought an answer as to how his generation was faring, who has stepped up to fill the void, and what it means to be carrying The Rock into 2012 and beyond.
How much did it mean to claim the Andy Irons trophy at the NSSA Nationals, Zeke?
It was pretty gnarly. I didn't know about it until the last day when (former Hawaiian pro turned coach) Jason Shibata told me about it, and I was psyched. I didn't think I was gonna win it. I thought they'd give it to some grom who surfed really well, but at the end of the day they gave it to me and it's the sickest trophy I've ever won in my life.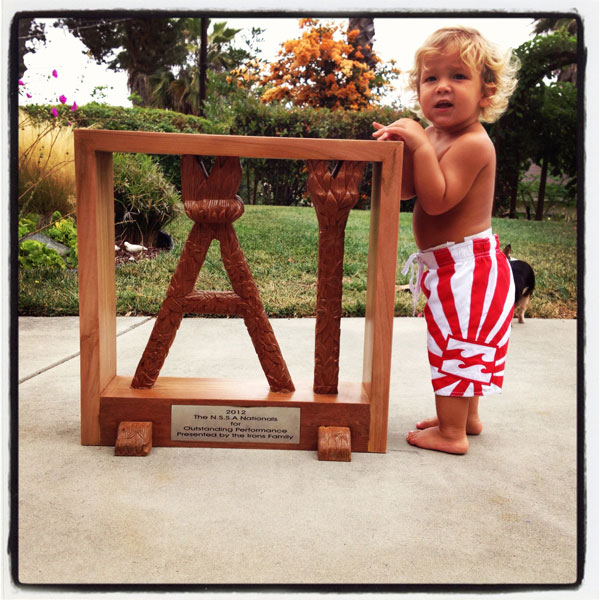 Lil' Axel Irons with Andy's NSSA trophy, won this year by Zeke Lau. Photo: Lindy Irons.
How close were you to A.I.?
I knew him pretty well through Dave Riddle, who coached Andy since he was small. They were really close and growing up Dave used him as a mentor. Everything Dave taught me, was based off what Andy did in surfing, contests. I also got to have little things like Andy would come over for dinner and he'd be hanging with Dave and his wife, and it was always really cool to have him around.
How did you guys interact?
It was pretty sick. Andy always knew what was going on with amateur stuff and was really interested. He was just fun to be around, joking and talking about rap music, Lil Wayne and all the stuff we talk about. He'd just crack jokes and hang out and have fun.
What did you take away from Andy's surfing?
Andy just had this special feel on the water. Dave always taught us to study him and Kelly, and what they would do in competition, and how focused and determined they were. I feel like their whole attitude to competitive surfing was something he wanted us to take in. One of the first things he ever taught me was about Andy's whole highline floater deal. I'd seen Andy do it a bunch and I remember just watching videos and trying to copy exactly what he did. Those highline floaters are pretty much the base.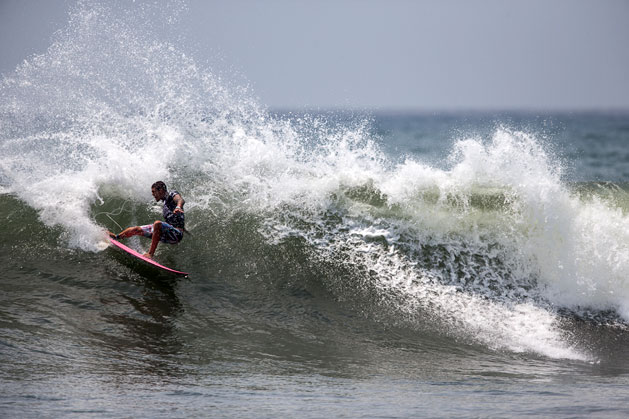 During the Oakley World Pro Junior Zeke Lau showed off his mastery of powerful forehand hacks. Photo: Hennings/Oakley.
There's been a lot said about the hole his death has left in surfing in general, but what affect has it had more specifically on your generation of Hawaiian surfers?
Andy was just a big influence for all the kids in Hawaii. He showed that coming from wherever it was, Kauai or Oahu or wherever, if you wanted to really pursue this dream of being a professional surfer in Hawaii you could do it. You just had to really want it that bad. You had to want it bad enough and you just had to go out and get it.
How did you take the news?
I remember getting the call when I was at school and it was just hard to accept it had happened. We never thought it would happen to Andy, but the legacy he left behind was a good one. All the kids looked up to Andy. For me, growing up, alls I wanted to be was the next Andy Irons.
How was Andy's passing felt in your schoolyard? Your high school is for only native Hawaiian kids, right?
Yeah, you have to have Hawaiian blood running through your family. Some kids knew about Andy's death but a lot of the kids that go to my school aren't tied into surfing that much. Everyone knew who Andy was, but it wasn't the same as it was for me. A lot of the teachers knew him well and they were all bummed that day, that whole week. We had the Sunset four-star contest on too and the whole week was hard for everyone … yeah, it was a heavy week.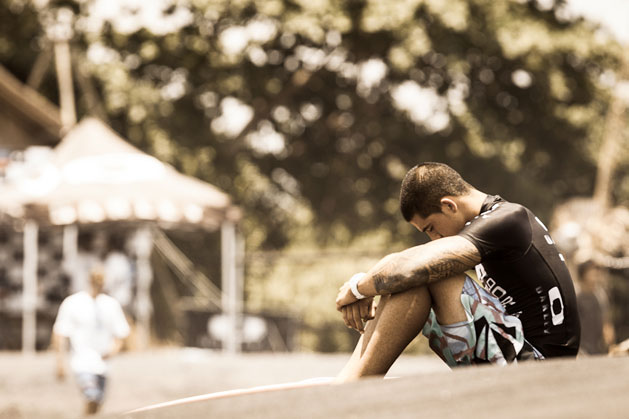 Taking a moment to himself before paddling out for the final at Keramas. Photo: Oakley.
Who were the most influential Hawaiian surfers in your youth?
Pretty much that whole crew came up together; Andy and Bruce, Dustin Barca, Makua Rothman and all those guys. Me and Keanu Asing looked up to Andy and Bruce and Sunny Garcia a lot, what they had to offer was crazy. They were natural waterman. Them being from Hawaii just made you want to do it that much more. If they could do it, you could too.
The Hawaiians destroyed the NSSA Nationals recently, taking out four divisions. How would you describe the state of Hawaiian surfing?
There is just so much talent coming up at the moment. I think it has a lot to do with the waves we're surfing, we can try push the limits way more than people from somewhere else. We're all really close and really click together. No matter where we are we link up and just push each other that much more.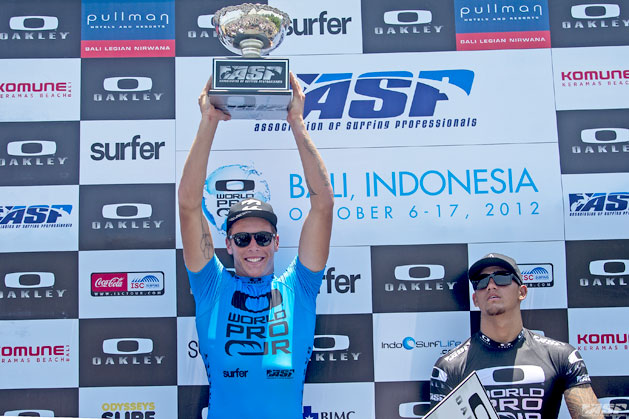 Jack Freestone was all million-dollar smiles after securing his second Junior World Championship, but the disappointment on Zeke's face was visible. But with two more year in the Juniors, expect Zeke to be holding the trophy aloft at least once.
Is the current generation bearing the fruits of Andy, Bruce and what was basically the most successful group of Hawaiian surfers in history?
Coming up with the younger Hawaiian generation we'd get to watch everyone go out and do their thing, like John John Florence, Dusty Payne, Ola Eleogram and Hank Gaskell. All the boys that I grew up surfing the amateur ranks with, I got to see and learn a lot from what those guys are doing.
Being from Hawaii, are there certain things that you have to be wary of growing up?
I think coming up as a Hawaiian surfer you already have a kinda target on your back for being scrappy (prone to fighting and aggression) and a having a punk reputation. You almost have to prove yourself not to be like that. The way we grow up in Hawaii everything is so small and compact, and everyone is so close together and things start to get, it gets pushy, and it feels like if you're not the strongest one, it's just weird. It feels like survival of the fittest sometimes. We get a bit more hungry, and you gotta know when to switch it on and off. You just gotta watch the things you say, and the things you do.
With Andy gone, who are the key figures in terms of guidance, mentoring and looking after the new generation of Hawaiian surfing?
Right now, there is a big gap between us and the older crew, but guys like Jason Shibata, Freddy Pattachia, Joel Centeio, Kekoa Bacalso, they're the group that are coming back and helping the younger generation. They're at every amateur contest looking for new talent. I've been working a lot with Jason and he's awesome; a great mentor and guy to travel with. He's helped me find all the mistakes I've been making these last couple of years.
What do you see as your role in the future of Hawaiian surfing?
Coming from Hawaii we're always going to look after each other no matter what. We're just family and we're gonna take care of each other, that's just a given. When I get older for sure I want to come back and be able to give back to the kids in Hawaii and help all that new talent. I definitely wanna be a part of it. I've seen what can happen to people who get caught up in that other side of pro surfing and I think my goal is to show by example that you just don't need all that other stuff.
Just last week Zeke went oh-so-close to winning the 2012 Junior World Title at the Oakley World Pro Junior Bali. Take a look at what unfolded here.
Want more insightful interviews like this? Pick up the latest issue of Surfing Life where we Focus on surfing wild child, Chris Ward.