By Chris Binns
Photos by Andrew Shield
Video by Talon Clemow
[vimeo]16488511[/vimeo]
Wreaths on the rocks as mourners prepare to paddle.
About 200 friends and family of Andy Irons this morning celebrated the fallen surfer's incredible life with a moving paddle out at the site of the Rip Curl Pro Search event in Puerto Rico. Led by a grief stricken Roy Powers and a similarly shell shocked Dusty Payne, both Hawaiian, a huge ring of mourners linked arms and roared in Andy's memory. Many of the World Tour surfers bore wreaths and leis, and amidst hoots and cheers and much splashing of water these were tossed into the middle of the circle.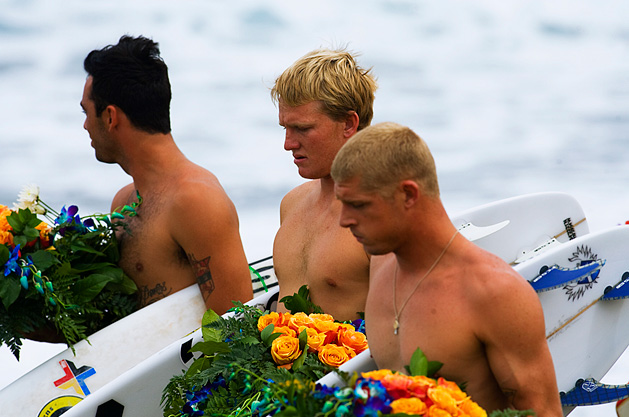 Roy Powers, Dusty Payne and Mick Fanning pause to remember their mate.
Mick Fanning spoke of the importance of looking after each other, Chris Davidson of Andy's passion for life. Hawaiian body surfing legend Mark Cunningham lead a chorus of "alohas" that could be heard from the beach, before the tribe flocked to the line-up to get one in for their mate.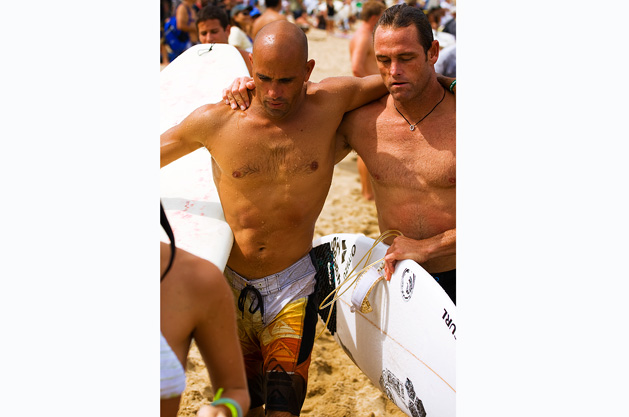 Kelly Slater and Taylor Knox, brothers in arms.
There were lots of hugs and arms around shoulders, lots of friends letting each other know of their love, and as much as everyone was trying to put on a brave face, there were more tears than smiles. There was disbelief, reddened eyes, knowing looks of sympathy between friends. Many of the tour spoke of how thankful they are to be together as a group to deal with the tragedy. Waves were shared and hooted, people were slapping fives to mates surfing by and introducing themselves to strangers with a smile. "I don't think anyone slept on this island last night," said a local surfshop owner, with a warm, weary look.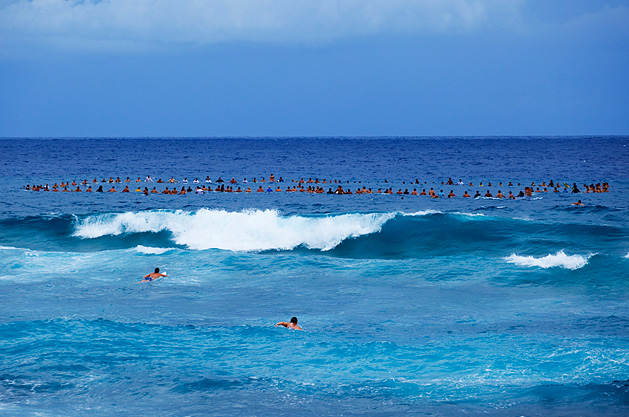 Friends and fans alike paid tribute to one of the greats.
A common theme of discussion was continuing bravely on; with life, with living, with this contest, as that is what Andy would have wanted. There is a dark cloud hanging over the event, but with the remarkable, positive people associated with the Tour, some good will have to come of all of this in the end. Rip Curl have put the event on hold until Friday, but there are encouraging forecasts for swell and plenty of surfers eager to pay further tribute to one of the greats when competition resumes.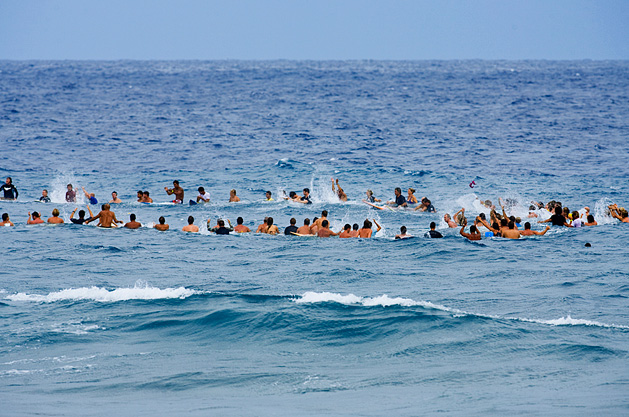 "Now let's go get a party wave for Andy!" screamed Mick, as the circle broke.