Chris Binns
Ed Killgallon surveys the scene of the attack. Pic Jamie Scott
When Ed Kilgallon, a 42-year-old, 16-year veteran of the sou-west region of WA, got up and went for his morning constitutional surf in Gracetown today, he had no idea of the horrible episode he was about to become part of. Witnessing a shark attack at his local break, Ed reacted as most of us would to if faced with similar circumstances, and went to the aid of his fellow surfer. Devastatingly, Ed's efforts were in vain, but he can hold his head high as he tries to come terms with the tragedy he witnessed today, and attempts to get in touch with the grieving family of the as yet unnamed 31-year-old victim.
A clearly shaken Ed Kilgallon kindly spoke to ASL this afternoon, to shed light on what took place in the line-up at South Point this morning.
"It was beautiful. It was glassy and perfect. Nice head high waves, three guys at South Point, four of us surfing at Huzzas, about 100m further inside. We were getting plenty of waves.
"I heard someone whistling, and looked over and saw a guy down at the water's edge; I actually thought he was stuck in the rocks. Then I saw Matt Manners, a local shaper, running towards him along the clifftop and thought he was going to give him a hand. Next thing Matt started waving his hands in the air looking at us, and yelling "shark, shark!"
"The four of us started paddling in and I said to the others, "let's stay together, let's stay calm, just keep paddling, and we'll get the next wave." But, mate! Do you think another wave would come through for us? We were a good 20-25 seconds away from the shore and had to paddle all the way before we got a tiny little wave right at the end. No sooner had we started paddling to shore than a pod of seals, that the shark was obviously chasing, surfaced right behind us. Had we not moved, had we not go the warning from Matt, one of us was probably the next in line.
"When I was paddling in I looked back and could see his board floating out there, so I knew something had happened. I never saw a shark, but I saw plenty of seals.
"Once in, I ran around the point to where a couple of the other lads had already got the bloke's body ashore. I didn't really survey the scene or anything, I was just preparing myself to get in there and help. The guys had him on a surfboard, and had his leg tied in a tourniquet to try and stem the bleeding. Half of his thigh was missing, hanging off, and half of his calf muscle as well.
"We were a fair way from the carpark, but there's another back track that gets in there, so the ambulance could get pretty close. Still, it took about 20 minutes for the ambulance to arrive on the scene. By that stage he wasn't conscious at all. He was white when we started working on him and has a big gash on his neck. We started to get his colour back, into his lips, which was a good sign, but it didn't last long. We had to stretcher him for about 10 seconds, put him down and work on him, and then stretcher him for another 10 seconds to get him to the ambulance.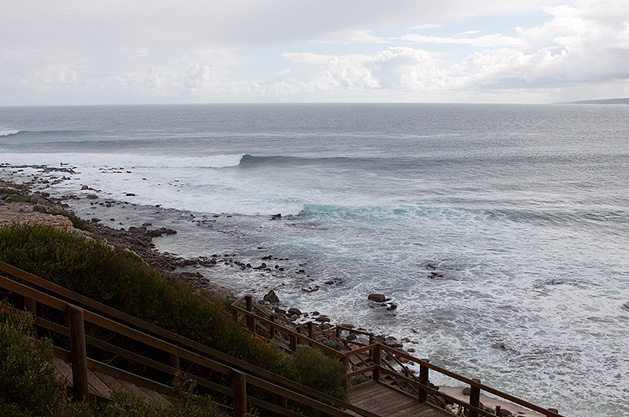 "It was beautiful. It was glassy and perfect. Nice head high waves, three guys at South Point, four of us surfing at Huzzas." Pic Jamie Scott
"We were 20 minutes on the beach with just the four of us giving him CPR, so by the time made it back to the carpark the word had got out and there were local newspapers and plenty of crew around. Then the choppers started coming down from Perth and we had to give our details to the police and all the rest.
"I'm heading back to the police station now to make sure the man's wife has my details so we can be in touch. I don't know if this will keep me out of the water yet. I'm sitting here in my mate's shed, I've just got back from a trip to Bali, and Huzzas and South Point are the centre of my surfing universe. I surf there so much, and it's the funnest kind of community feel, you see Mum, Dad and the kids all surfing together, so it's going to have a huge impact on all that sort of stuff. And I like I said, the waves were just so nice, but I'm sitting in my mate's shaping bay and finding it hard to even look at a board.
"They've closed the beach from north to south, for a couple of kays. Nobody's going near it and there are good waves going on! In hindsight you can maybe say it looked sharky, it was an oil slick morning, looked like Indo 'cept a bit cloudy, but those seals were the key for this event as far as I'm concerned. The shark's just mistaken one of us for one of them. There was a pod of seals and they've obviously gone to him to try and distract the shark from going for them. And they obviously went to us, the cheeky little bastards!
"It just looked like one big bite…"
Ed, on behalf of the surfing community, thanks for your amazing selflessness and courage today. Our thoughts and prayers are with the victim's family and friends, and anyone affected by this tragedy.