Words Mimi LaMontagne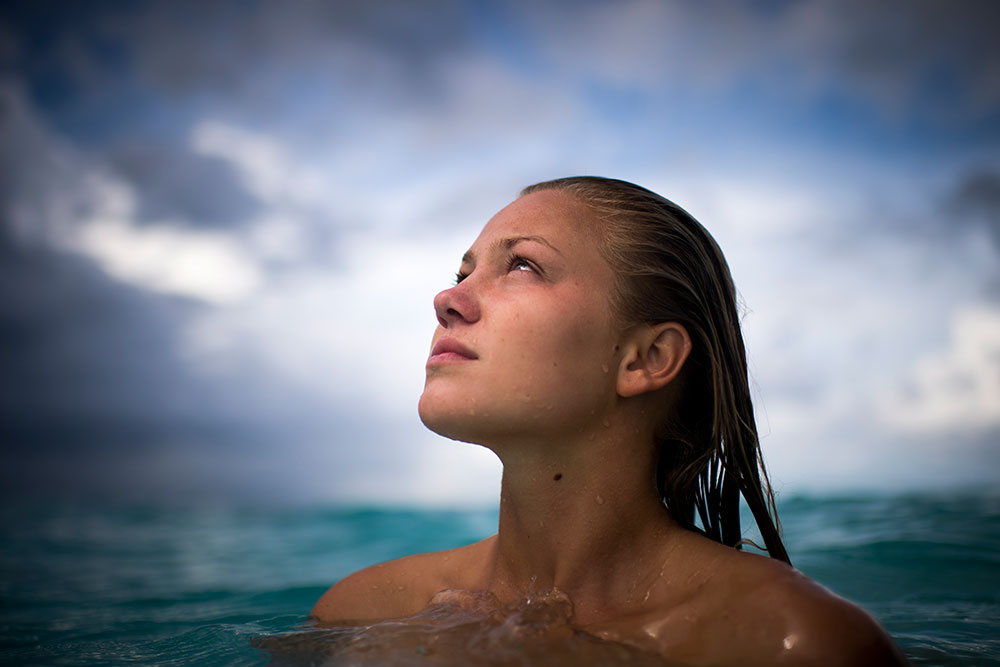 Left to the imagination. Photo: Ray Collins

If you're not already familiar, meet Ms Imogen Caldwell. She's eighteen years old, has been surfing for a mere three years and, without a doubt, charges 10 times harder than you. We chose to put Imogen in our Hot 100 Issue because she represents a new future for women's surfing in Australia – she's fearless, she's the best in her specialty, and she's constantly looking past that West Coast horizon, on to the bigger and better. If adrenaline were a girl, its name would be Imogen.
Although born on the East Coast of Australia, Imogen calls Red Bluff, Gnaraloo home now. Ten years ago Imogen's parents, Jim and Bek, brought their family (Imogen, her sister, Ebony, and her three brothers, Lockie, Jaspa and Oska) to the other side of the continent, in search of a life in the path less travelled.
In fact, it's basically never travelled. "I don't really have a 'home town', per say. It's more so a campground," says Imogen. "The nearest town is two hours away. Two families permanently live out here, and the rest are infrequent tourists who come and go. Here, my friends are basically my family. There are a total of 13 kids who live here, eight of which are girls. We're all pretty rough, living and enjoying nothing but simple pleasures – everyone out here has a total disinterest towards shoes. I guess you could say we were quite uniquely raised in this little piece of paradise."
"I'm actually really stoked on my parents' decision to remove us from the normal day-to-day hype of life. At the time I didn't really have a choice of where I wanted to live, but ending up here isn't so bad. On a daily basis, I see things that people pay hundreds of dollars to see, and I feel like I've grown up at one of the most unique and mind-blowing places in Australia. Thinking about it, I wouldn't change how I spent my childhood for the world. Sure, we did miss out on a lot of things – I mean, most of us have never even been inside a hairdressers, we've never had school balls or parties, we've never even had a real school for that matter. But I'm not fazed. It doesn't bother me in the slightest, and I guess because of it, I'm doing something with my life I might never have tried – I probably wouldn't have ever started surfing if I didn't live here. One can only linger around the desert for so long, before taking to the waves."
So at 14 years old, Imogen followed in her sister Ebony's footsteps, and started surfing their local break, Red Bluff (aka The Bluff), with Tombstones, a Gnaraloo wave, just up the road as second choice. For those of you that don't recognise the name, this break is no walk in the park. It's a big, fat, scary, shallow, left break slab that most guys would be terrified of on a decent-sized day. Oh yeah, and it's the meeting place for migrating animals in Australia (sharks, whales, whale sharks, you've got the whole shebang).
"Out here? You don't really have a choice. If you want to learn to surf, you have to learn at The Bluff. You've got to battle the fear of sharks, you've got to take a couple of drainers on the head, and you've got to pull a few hundred sea urchins out of your feet – then, it's all uphill from there. Once I started, it was hard to stop. I felt like I constantly needed to improve, and it kept me coming back, despite how gnarly it was. I'm a pretty hyper person, and I always need something to occupy myself – the sea provides 24/7 activities, and living 50 metres from it, you find yourself in the water more often than not."
Starting at a later age (17 is old these days, didn't you know) on such a heavy break meant one thing – either learn quickly or get out fast. And that's just what Imogen did. "I kind of jumped from being shit scared of a barrel and wiggling my way into the reef, to actually being half decent, really quickly. Surfing every day for hours… putting school off until the following week (win!)… it was kind of hard not to improve. I can now say, I guess, that I'm able to comfortably paddle out anywhere when it's solid and not be overwhelmed by fear. I mean, there is always that slight panic when you get a decent hold-down, but there's still a sense of familiarisation and control." Because in the North West, you start pulling in before you can duck-dive.
Growing up so remotely, surfing was never a "career choice" for Imogen. She wasn't being pulled by sponsors, pushed by parents or hounded by media. She didn't even realise she was "good", for lack of a better word, until someone just had to tell her. "I've had so many memorable moments out at The Bluff, but there's one that stands out way more than the others – the time when I realised I was no longer a complete kook. My brother, who never says anything nice about me, told someone I was ripping. It would have to be the biggest confidence boost I've ever received. I mean, some of my biggest inspiration comes from my little brothers. When I see them out there, these backhand little stickman boys, pulling into The Bluff on boards that they've fixed up 18 times, with nothing but a filthy grin from ear to ear? It doesn't get any better.
"I'm not much of a planner, and I don't look at surfing as something I need to think about, career wise. If it came down to it, I'd probably give the Tour a crack to make a living, but I prefer to make instant, spontaneous decisions, so that I don't overthink. My goal right now is just to go bigger – I'd love to work towards surfing Cloudbreak and Chopes (gotta dream big, right?). That's the future of surfing, in my eyes. Going bigger, getting heavier, and jumping further and further out of your comfort zone.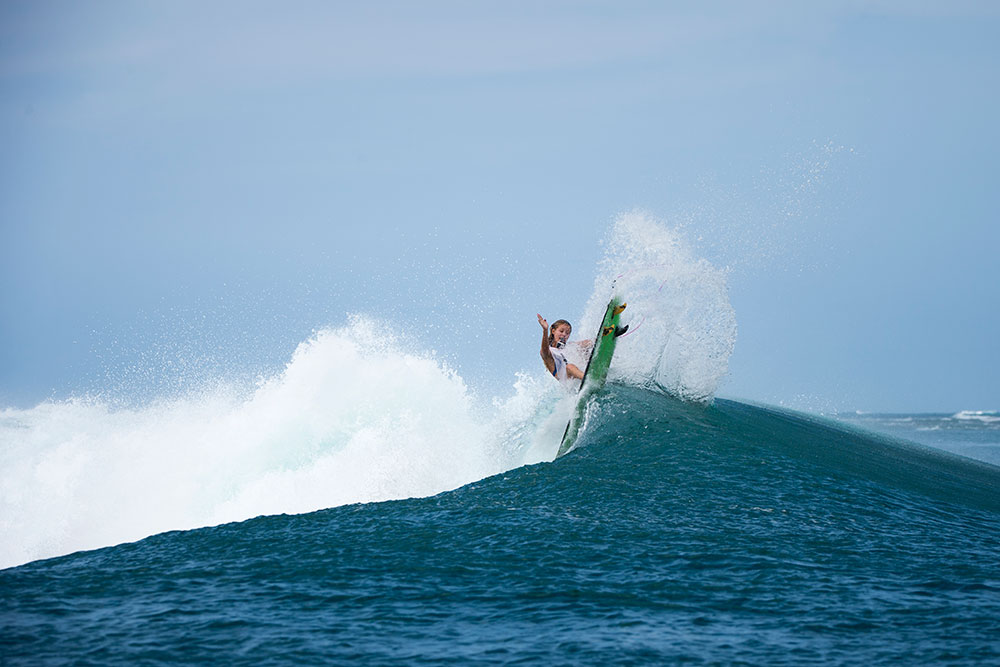 That's a friggin' Gnarloo turn. Huzzahhh, Imogen, Huzzah! Photo: Ray Collins
"There's this 11-year-old girl here, Coral. She paddles out when it's solid four to six foot and has no fear at all. She willingly takes on sets and happily endures her fair share of beatings. And if that's not a new generation of girl chargers pushing the limits, then I don't know what is.
"But there are so many young groms that are ripping right now. It's insane. It makes me think that I should probably go get stuck into surfing shit, small waves on my backhand, because I can't surf perfect lefthand barrels my whole life. But it's hard – there's nothing more impressive than a beastly reef break. Just look at someone like Jacob Wilcox ­– I'd have to say that Jacob, who's from Margies, stands out as one of the biggest up-and-comers. He's such a cool young kid, and he's super focused – he charges the North West with ease.
"That's why I'm taken to a guy named Cortney Brown. He and his brother, Kerby, are so insane in the water. He's got a flawless style, and some serious enthusiasm towards surfing the deadliest waves. Nothing is more impressive. So I guess it might be breaking the rules, because he's my current companion, but I feel I'm sort of obligated to pick him to Objectify. Not only does he charge, but also he's always willing to teach me, and he's always happy and easy-going. Actually, he's altogether just a bit of a babe.
"For me, you've gotta have a sense of humour and a brain if I'm going to be interested. The only thing I could knock him for is the fact he doesn't currently hold a licence, so I have to cover a solid amount of mileage to see him. Although in WA, I guess that's normal."
As a conclusion to our interview, I asked Imogen if she has any words of advice to young, up-and-coming gals and guys. When you're living in the middle of nowhere, making a name for yourself isn't an easy task, but Imogen seems to have pulled it off without a hitch. "I can't tell someone how to act," she says. "I'm only just figuring it out myself. But in the words of T.S. Eliot, Only those who risk going too far can possibly find out how far one can go…
And that, my friends, is why you're reading about Imogen right now.
This article is an excerpt from Surfing Life 315, The Hot 100.