Words: Nick Carroll
MP was a surfer ahead of his time. Kirra in 1975. Photo: Dick Hoole.
MICHAEL PETERSON
1952-2012
Michael Peterson, who died today of a heart attack, was a unique figure in the sport and culture of surfing. While many tried to define him in various ways – as the second coming of Nat, or in latter years, as Australia's Mickey Dora – MP resisted all comparison. His passing will send a jolt through the memories of surfers in Australia and worldwide who grew up with him, heard about him, or just saw him rip. To many of these surfers. it will feel like the end of an era.
"MP" or "the Monk", or "Reggie the Veggie", as he was known at various times between 1970 and 1980, was born in September 1952, first child of Joan Philp. His fatherly origins are a mystery; many years down the track, Joan claimed to his biographer Sean Doherty that Michael was the product of an unreported gang rape. He grew up in Tweed Heads in a poverty-stricken single parent household, with three younger siblings and a succession of violent stand-in stepdads. He had nothing to lean on other than a wiry physicality and an almost frightening ability to concentrate.
But Michael lived at the beach, and it became his arena, his stage, his way out. Convincing Joan that he be allowed to surf took some work, notably a fair stint at the Coolangatta Nippers, where he regularly won the board paddle races. Released into wave-riding, MP and younger brother Tommy swiftly became the nucleus of the up and coming Kirra grommet crew, cutting down and re-glassing old boards under the family apartment, more or less constantly wagging school, and conducting crazy surfing duels with the likes of Coolangatta's Peter Townend.
A young Wayne "Rabbit" Bartholomew was taken in by the Peterson boys in little-brother fashion. Later he recalled watching PT and MP at Greenmount, going wave for wave: "You'd see the unmistakable blond bomb PT with the pink board, you could nearly see the little goatee, coming along Greenmount, this beautiful, beautiful movement, really nice style … and the wave behind you'd just see MP's rooster tail, rooster tail, rooster tail … it was just amazing, their rivalry."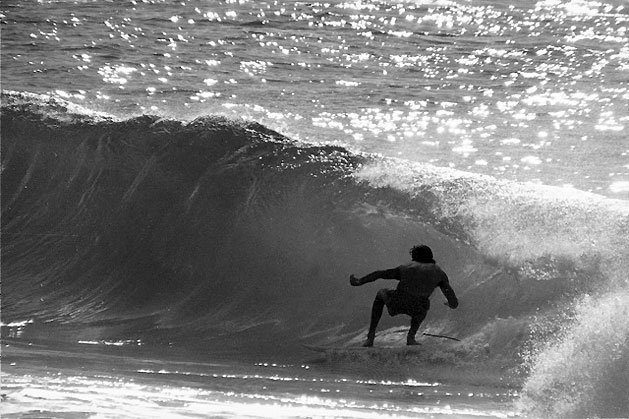 MP finding shelter at home at Kirra in 1976. Photo: Dick Hoole.
The three were thrown together on trips to Bells Beach and to the world contest in San Diego in 1972, where PT came fourth and MP was pulled aside at US Customs for carrying a flick knife while trying to sneak off to Hawaii with Rabbit – which pretty much summed things up.
PT wanted to be pro, Rabbit wanted to win … but MP was the one with the outrageous surfing chops. He rose through Queensland titles and that amazing short appearance in the film Morning Of The Earth to grow into one of the world's greatest surfers, dominating Australian competition and performance and being hailed as a cult hero within the feral, free-form surf culture of the time. MP won Bells three times back to back and in 1974 conducted a clean sweep of all major Australia-based surf contests, from the brand new super pro 2SM-Coca Cola Surfabout to the national title. Whenever somebody came up with a new contest format (a dime a dozen in those days) MP was the first to get it wired, with his combination of fearsome paddling speed, machine-gun turns and man-of-mystery psyche. "I could say, but I won't say," he told surf journalist Phil Jarratt when asked to explain how he won so often, but maybe it wasn't so much of a mystery; at Bells, for instance, while everyone else socialised, he would sit in his car with the judging system taped to the dashboard.
[youtube]jkc55Xy0Ggk[/youtube]
MP was the champion of Bells from 1973 to '75.
In 1977 he emerged from a brief semi-retirement to record a spectacular victory at the Stubbies Pro in perfect Burleigh Heads barrels. It was the first ever man-on-man pro event, and finals opponent Mark Richards – at the time a rising superstar who'd re-invented the twin-fin and conquered closed-out Waimea Bay – confessed to his terror at facing MP: "He had this incredible physical presence and this look he'd give you, the same sort of look you see in boxing matches. He'd come paddling back out after a wave with his eyes flaming and I'd take off on any little piece of crap wave that came along just to get away from him."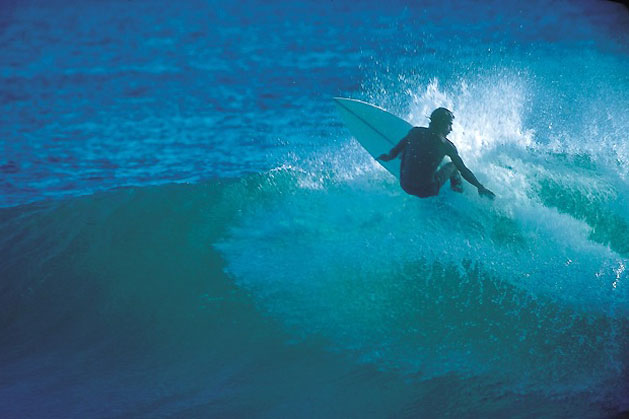 MP smashing the lip on his way to winning the 1977 Stubbies at Burleigh Heads. Photo: Dan Merkel.
Peterson was a charismatic genius, but a tortured one; he suffered from incipient paranoid schizophrenia, which eventually blew out into the real thing under pressure of his weird underground legendhood and a massive drug habit. He became more and more reclusive as his competitive fires ebbed in the early 1980s. In 1983 he was arrested and institutionalised after a wild police car chase through the outskirts of Brisbane, eventually to be released into the care of Joan.
Perhaps other than Tommy, hardly anybody could claim to have known Michael well. His ex-girlfriend Patty Huntington stayed close friends with the family. His fellow surfers alternately worshipped him and were bemused by his behaviour. His competitors viewed him with a mixture of awe, uncertainty, amusement, and even a bit of scorn. But none of them forgot what they'd seen in the water.
In recent years Michael made numerous public appearances at surf contests and various surf gatherings. By then – heavy-set, on medication and no longer surfing – he was far from the rapier-thin supergrommet of Coolie Nippers or the terrifying über-figure of MR's memories. But he was often genuinely touched by the affection and acceptance extended to him by so many Australian surfers who'd grown up with his legendary surfing in mind.
Increasing weight and a further onset of diabetes had reduced his mobility in recent months. He is survived by Joan, Tommy, and sisters Dot and Denice.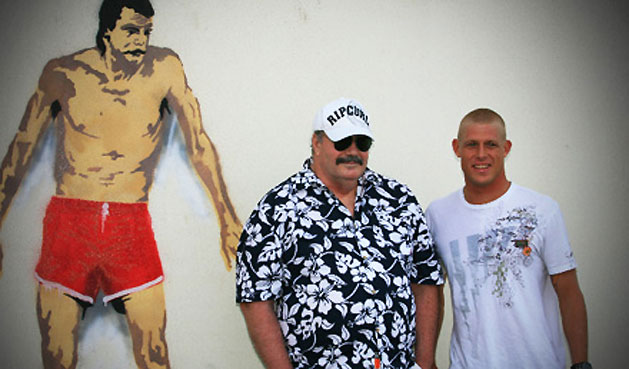 Mick Fanning said on Instagram this morning, "The ORIGINAL Coolie Kid! MP you will be remembered forever!" Mick and MP posing in front of a mural of MP that turned up on the wall of the Burleigh toilet block over the weekend of the 30th anniversary of the Stubbies.